What happens when you take a smartphone and stick a point-and-shoot camera on the back? The original Samsung Galaxy S4 Zoom was a slightly unrefined piece of technology, but the new Galaxy K Zoom — based on the excellent Galaxy S5 — cleans up its act and produces a versatile and useful camera phone.
---
One of the biggest reasons to shoot film nowadays is medium format, an option that yields gorgeous results but whose digital counterpart is wildly expensive. It's well known that medium format offers an increase in resolution and print size, but there are other advantages that make it a unique tool in a photographer's repertoire.
---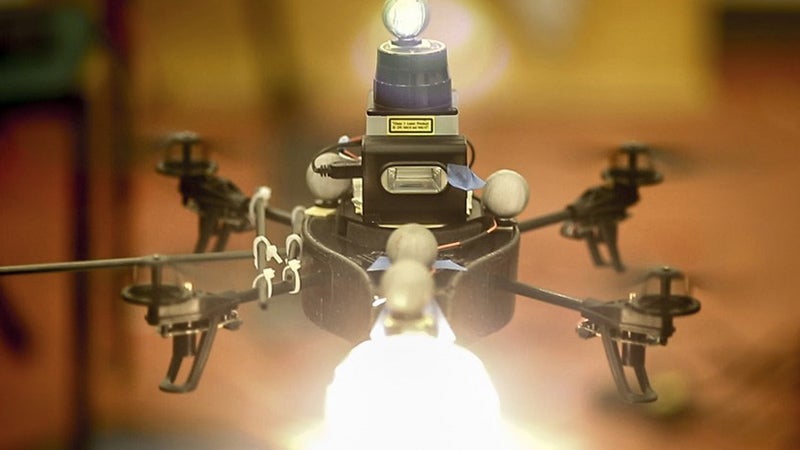 If you've ever been to a photography set, you've probably noticed how much time the photographer and their assistants take to perfectly position the lighting — only to have their efforts foiled when the model moves. That's why researchers at MIT are proposing using drones as lighting, as they can constantly ensure they're always in the perfect spot.
---
Last month we heard Sony has been working on a curved sensor for cameras, the idea being they better reflect the nature of the human eye and reduce the amount of distortion and blur you get with a traditional flat CMOS. While there's no further news on when we'll see such technology at the consumer level, we do have a shot showing the sort of photos the sensor can record.
---
Video: Photographer Chris Higgins has been fascinated by caves ever since he was a kid. When he found that words weren't enough to describe the beauty of what he saw in the caves he explored, he began photographing them. Now, he shoots heart-stopping underground images, and the guys from JOBY followed along to see how much hard work that takes. Something that you don't consider when ogling Chris's images is the sheer bulk of time that they require — a single shot could involve up to 12 hours of climbing, crawling, rappelling, wriggling and setting up flashes and triggers.
---
---
NSW Police is spending $4 million on a rollout of body-worn video cameras for active police officers, with the chest-mounted cameras recording any interaction or confrontation between cops and the general public. Take a look…
---
---
Have you ever wondered just what the wings of a cicada look like really close up? There's a company with a nifty piece of tech that can show you exactly that, and anything else, down to a micron level. Its fascinating computerised rig can be configured to capture the most detailed macro photos you've ever seen.
---