The Pebble smartwatch boasts vastly superior battery life to Apple's upcoming wearable, but that doesn't mean you still don't have to regularly keep it charged. So following up on its key-sized smartphone chargers, Nomad is introducing the tiny NomadKey Pebble that includes a magnetic connector for attaching to and charging the smartwatch. It's small enough to keep in your pocket with your keys, so you'll never be without it.
---
The future of cables is finally coming and it's god damned fantastic. Welcome to USB Type-C.
---
The limits of battery life means that dealing with cords and cables — instead of going completely wireless — is still our reality for at least a few more years. So researchers at MIT figure we should just start using them to our advantage as smart remotes and controllers, instead of just a means to transfer power and data.
---
Travelling for work usually involves bringing along a small mountain of electronics, each with cables that need to tag along too. But a new Kickstarter promises to replace them all — power, video and audio — with a single multi-headed cord that can handle any connection that wireless hasn't already replaced.
---
It's not uncommon to bum a smoke, a ride or a piece of gum from a friend, but if a new Indiegogo campaign is successful, you might soon be able to bum a little bit of power for your phone as well. The Juicer is a simple double-headed microUSB cable that lets you transfer power from one tablet or smartphone directly to another.
---
Wireless protocols like Bluetooth, Wi-Fi, RF, Z-Wave, and NFC have made our lives a little more cable-free, but we're not clear of the tangles just yet. Odds are your desk is still covered in power and sync cables for laptops, smartphones, and tablets. And while Griffin's new Guide doesn't eliminate them, it can ensure they always stay in easy reach and never accidentally slide off your desk.
---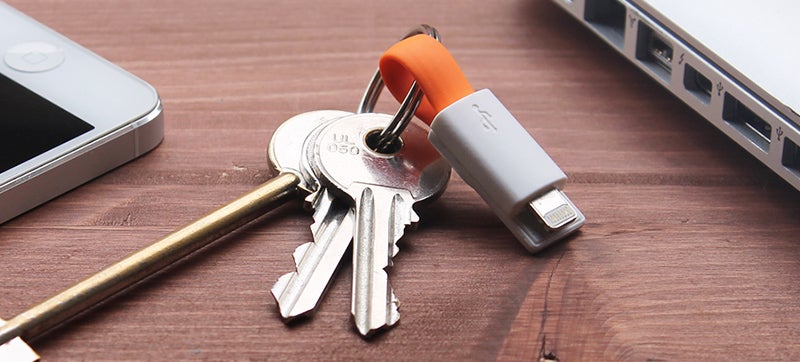 Thin smartphones also mean thin batteries, and carrying a charging cable so your phone can last the day is basically a fact of life now. To make the situation a little more convenient there have been countless keychain-friendly solutions for charging your smartphone, but none as perfectly tiny as the inCharge.
---
Remember the ChargerLeash? It was a replacement USB charging cable for your smartphone that featured a built-in audible alarm so that when it was unplugged, there was little chance you'd forget it and leave it behind. Now there's a new 'Pro' version with a simple silencer so you can also use the cable at home, without the alarm constantly going off.
---
It's not uncommon to leave the house with a bag full of gadgets that will probably need a charge at some point during the day. So you can either bring an assortment of cables with you, let your devices all fight over a single charger, or wait until Samsung's new three-headed micro USB charging cable is finally available.
---