This is wild. Chasing the elusive dream of curing paralysis, a team of scientists used stem cells and optogenetics to circumvent the central motor system of lab mice whose nerves had been cut. This enabled them to blast individual motor neurons with a laser, triggering movement in the legs of the mice.
---
Light is an incredibly powerful force. Sure, it helps us see and gives us fast internet, but medical researchers keep stumbling upon new positive side effects. A team of Belgian scientists, for instance, just discovered how a 10-minute blast of orange light increases brain activity related to cognition and alertness.
---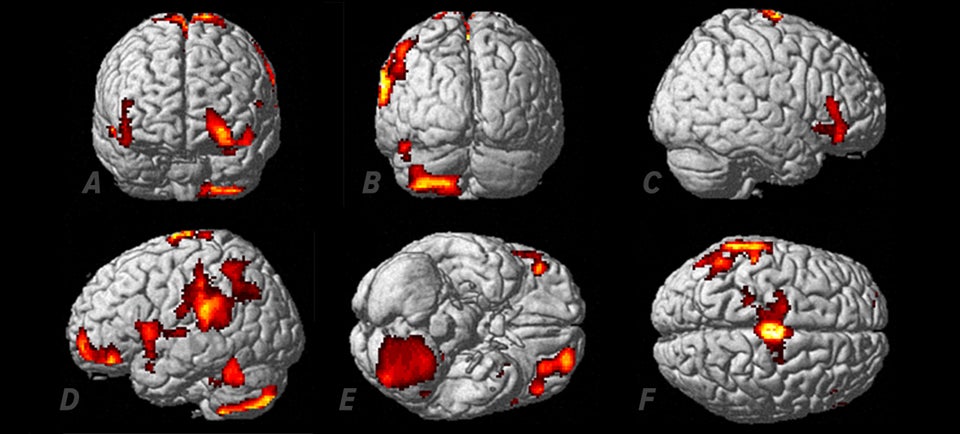 Some people claim that they have experienced out-of-body experiences — aka "astral trips" — floating outside of their bodies and watching themselves from the outside. A team of scientists found someone who says she can do this at will and put her into a brain scanner. What they discovered was surprisingly strange.
---
It's funny watching dogs do human things. It's funny to watch them drive cars. It's funny to watch them sit in chairs. But, seriously, new research shows that dogs actually are just like us. At least they are when it comes to processing voices and emotion — and, now, we have the brain scans to prove it.
---
Badly, perhaps. But even if you struggle to recall information on a daily basis, all our brains are wired in much the same way — and it requires quite a few steps to remember anything at all.
---
Pain is a hard problem. Sure, we can throw a little morphine at pain in the short term, but researchers continue to struggle with solutions for chronic pain. New research from Stanford's futuristic Bio-X lab looks like a light at the end of the tunnel — literally!
---
Time is a slippery continuum. Watching the hands on a clock tick will feel way, way different depending on the situation; trying to frantically write something on deadline with five minutes to spare ain't the same as desperately willing a conference call to finish more quickly. It turns out that music can have an equally brain-bending effect on how we process the days of our lives.
---
Drinking influences our personalities in a variety of ways. Some people get happy. Others turn combative orimpulsive. At one time or another, though, we've all been the emotional drunk, a condition typically marked by ill-timed espousals of affection (or reprisal), acute introspection, and an uncontrollable urge to cry in the middle of a crowded bar.
---
---