A backpack has plenty of pouches and pockets for storing a water bottle, but a sleek messenger bag? Good luck fitting a Nalgene in there without an unsightly bulge. You'll either need to go without and keep an eye out for drinking fountains, or toss a few dollars towards these Kickstarted flat-pack water bottles.
---
A plastic water bottle can survive the rigours of an active lifestyle, but over time it will collect odd smells and flavours that eventually can't be scrubbed out. A glass bottle is a better option, naturally eschewing mould and odours, but one wrong move and suddenly it's a pile of shards. These Squeezable Glass bottles claim to offer the best of both worlds — but have a bit of a misleading claim to fame.
---
Everyone knows you should drink plenty of fluids when playing sports, but hydration actually becomes an exact science when the pride of your nation is at stake during something like the World Cup. That's why at this year's tournament, Brazil's soccer team is using specially-designed Gatorade bottles that track how much the players are drinking.
---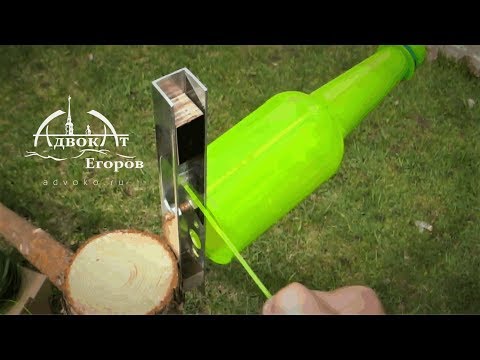 Look, I have no idea what I'm going to do with super-strength plastic rope either but oh my genius, this recycler's idea of turning plastic bottles into plastic rope is just brilliant. The video is perfect, he shows you the plastic rope, shows you what to do with it and then shows you how to make your own. I'm now convinced I need this in my life because of this guy.
---
There's good news for those of us who've ever felt embarrassed about not being able to get the cap off a bottle. A team of researchers in Japan have found that the bottle's round shape could actually be to blame, and that getting caps off bottles with a parallelogram-shaped cross-section is considerably easier.
---
If you don't have kids, you might find it hard to believe that baby bottles don't come standard with this springy shock-absorbing and easy-to-grip silicone rollcage. The Ba Baby Bottle Holder is actually a $US15 aftermarket accessory for bottles that makes them easier for babies to grip, and better suited to surviving being thrown across a room.
---
With every sugar water-selling corporation directly targeting kids, it's hard to convince the young'uns that water is really their best source of hydration. But what kid in their right mind would choose to sip from an aluminium can when this wonderful robot-shaped bottle could be lurking in their lunchbox?
---
If your recycling bin overfloweth with empty plastic water bottles, and you're just too lazy to take them to the curb, why not turn them from an eyesore into a lovely centrepiece with this 3D-printed web of bottlecaps? All you need to do is scrounge up 12 similarly sized bottles, and you've got yourself a one-of-a-kind vase that can hold an entire bouquet of flowers.
---
Are you tired of being told when and where you can and cannot drink? Taking advantage of the fact that everyone carries around reusable water bottles these days, the BottleCamo blends right in. But instead of filling it with water, you unscrew the bottle, stash a brewskie inside, and don't let any silly laws prevent you from downing a cold one when you want to.
---