Loading page
Video: Check out the latest hit at Japanese parties: $5000 latex dolls that pour drinks from their nipples when you squeeze their boobs. It looks disturbing. What's going to be next, Japan? Male and female android fountains wandering around parties serving drinks from their lower naughty bits? But of course.
---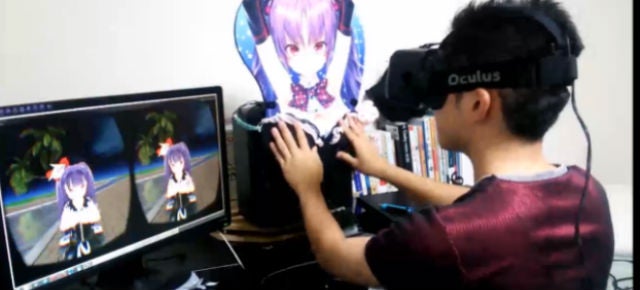 You can do some cool shit with the Oculus Rift: You can simulate what flying feels like, or use it to pick out your next car. And if you have less experience with the female anatomy than Steve Carell in The 40 Year Old Virgin, now you can use it to simulate grabbing a handful of boob.
---
Bras are pretty much some of the oldest pieces of tech around — the undergarment can even trace its roots all the way back to the freelovin' days of ancient Greece. So as something most women wear nearly every day, it's amazing how many studies have come out claiming that ladies everywhere our wearing their bras all wrong. ThirdLove, a new app headed up by a NASA scientist-led engineering team, hopes to change all that with nothing more than an iPhone and a few snapshots.
---
Facebook doesn't like boobs (even when they're just elbows) so much that it banned a mother from the social network for posting pictures of her breastfeeding her children. What's interesting is that Kemp's photos weren't especially revealing (in the explicit sense of the word) and that Facebook actually allows photos of breastfeeding to be posted. What's horrible is that Facebook banned her not once but twice for it. What happened?
---
The world of Android is complicated. One company hates another, some are secretly sharing beds… my God, it's just like high school! Well, a Manga arteeest took that concept and ran with it: welcome to Sweet Android High School.
---
Loading page