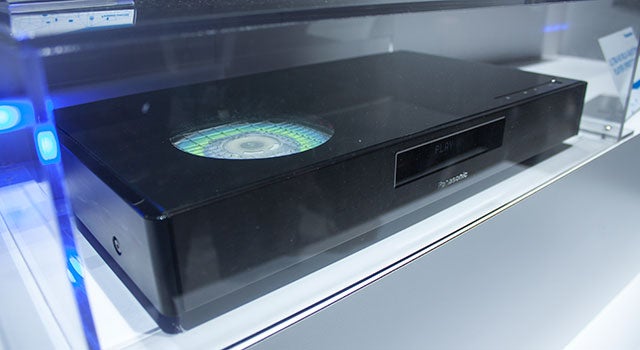 The CES show floor just opened, and the chaos is real. Sift through it and you'll find Panasonic has a gem hiding out in its massive booth. We've already been told 12930821321312 times that that 4K is here, and while the screens are, the stuff to watch is still sparse. But Panasonic's new Blu-Ray prototype wants to make sure you can use every pixel possible.
---
The traditional way to display one's collection of DVDs and Blu-ray movies is to whack them on a conveniently-positioned bookshelf, preferably in a public space where friends can admire your dedication to the slowly-dying medium of physical discs. But movies aren't books. They should be on a movie-shelf. Or if it happens to be your collection of X-Men films, this glorious contraption.
---
Stupid hipster 80s fetishism notwithstanding, cassette tapes don't get much love. That's a shame, because magnetic tape is still a surprisingly robust way to back up data. Especially now: Sony just unveiled tape that holds a whopping 148 GB per square inch, meaning a cassette could hold 185 TB of data. Prepare for the mixtape to end all mixtapes.
---
They say you can't have your cake and eat it too, and if you want an ultra-thin lightweight laptop, you have to say goodbye to a built-in optical drive. It's a minor sacrifice made even easier to tolerate now that Pioneer is introducing an external Blu-ray/DVD/CD burner that connects to your Mac or Windows computers over Wi-Fi.
---
Now that its bigger brother Blu-ray has stolen the spotlight, paltry 4.7GB DVDs have slowly started to fade into obscurity. But could they be poised for a comeback? A trio of Chinese scientists have discovered a breakthrough process that could, at least in theory, allow a DVD to store a whopping 1000TB — or a full petabyte — of data. Suck on that, Blu-ray.
---
They last a lot longer than the tape-based storage of yesteryear, but optical discs, particularly the type you burn at home, aren't guaranteed to survive even a decade. So if you want to pass on that wedding video/holiday photos/copy of Caddyshack to your great-great grandkids, you'll want to opt for Millenniata's new 25GB Blu-ray compatible M-DISCs which are guaranteed to last at least 1000 years.
---