---
Apparently, Volkswagen has realised that kids who ride Porsches grow up to be adults who buy and drive Porsches. It's the same strategy that Adobe uses by selling Photoshop dirt cheap to students. But will learning to ride a two-wheeler on this luxurious Porsche balance bike give toddlers a taste for the finer things in life?
---
For those who take their cycling seriously, a bike is more than just a form of transport: It's a trusty companion, a faithful steed, and a work of art. The Berlin-based design team at .flxble have created a wall-mounted wooden rack that will allow you to store your ride in style, making it part of your home decor — kinda like a shrine.
---
They don't need petrol, they can weave in and out of traffic, and you don't even need a licence to ride one. But unless you tack on a set of panniers or a basket, bikes are notoriously lacking in storage space; a problem that Industrial Designer David Hotard might have eliminated with his novel Transport bike, which features trunk space inside the bike's front wheel.
---
The most expensive, most intricate bike locks you can buy are really only guaranteeing that your bicycle's frame doesn't get stolen. Everything else, from your wheels to your seat, are fair game if not taken with you or somehow secured. But that 'somehow' could very well be these clever Sphyke miniature combination locks, which make it impossible for your ride to be disassembled without knowing the passcode.
---
When you ride your bike to and from work every single day, you're going to want to make sure it's as comfy as possible. And that's exactly what Alter Cycles is promising commuters with its unorthodox take on shock absorbers. Instead of integrating them into the front forks, the company's replaced the down tube on its bikes with a flexible bow that promises varying degrees of comfort.
---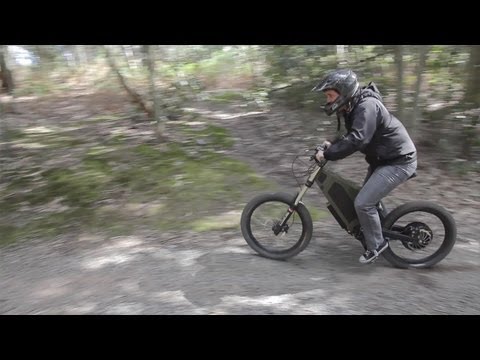 The word "genius" gets thrown around a lot these days, but very rarely is it as deserved as it is for John Karambalis who, after eight years of work with a few school mates, has become the Sir James Dyson of the bike world. Meet Stealth Bikes: the world's best electric bike, made right here in Australia. Watch us take it for a spin!
---
Riding your bike through a full-size carwash is one of the easier ways to seriously injure yourself. But who has the time to take a hose and sponge to their bike after a dirty off-road ride? The rich and famous, maybe, but for the rest of us an Italian company has developed a carwash for bikes — or a bikewash, if you will — called the QBike.
---
For those who live and breathe by two-wheeled transportation, bicycles are more than just a way to get from here to there. The immediate, wind-on-your-face freedom of pedalling fast is a feeling that just can't be matched by wandering around, road-tripping, or pretty much any kind of public transport.
---