Man of Steel was mostly fine, but one huge problem with the movie was that it was just too dark. It embarrassingly cribbed its visual style off of Nolan's Batman trilogy and that dark tone just doesn't match up well with Superman. Visual Lab decided to restore the colour in the film and it looks so much better.
---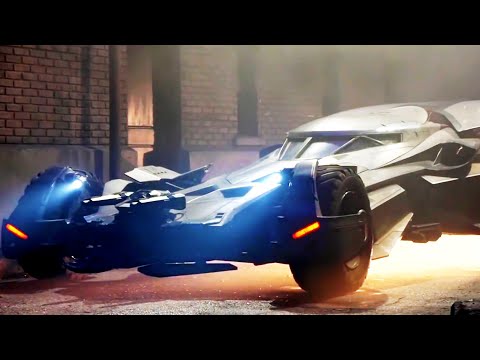 Video: If you want to get a closer look at the new black dune buggy that Ben Affleck's stunt guy will be driving in the upcoming Batman vs Superman movie, here's some up-close footage from JoBlo Movie Trailers. You get up close shots of the parts and a glimpse of the weaponry. It's like a cross between the Tumbler and sleeker Batmobiles of yore.
---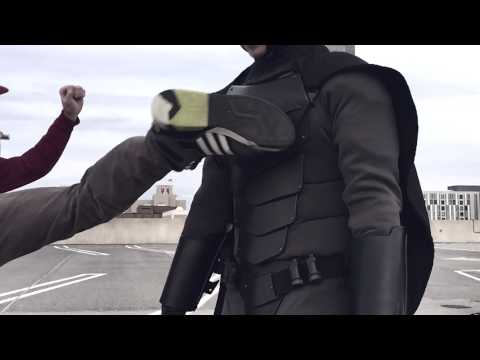 Made from Kevlar, 6mm Kydex plating and impact resistant foam, Armatus Designs created a real-life version of the Batman suit. It won't stop bullets or make you Bruce Wayne, but it is stab-resistant and slash-resistant while still being pretty lightweight and flexible. I wouldn't recommend you putting it on and becoming a vigilante or anything.
---
Video: I've seen Batman fighting criminals, driving awesome vehicles, or even deeply depressed but I've never seen him as sexually aroused as in this neat mashup trailer by Josh Meeter called Fifty Shades of Wayne. Watching this made me think about the weird sexual toys Bruce Wayne would have if he were Grey.
---
In recent years actors like Michael Keaton and Christian Bale have laid claim to the Batman character in movies, but your parents (or grandparents) are probably more familiar with Adam West's take on the superhero from the campy 1960s TV series. Which means that Mattel's gigantic version of the George Barris-designed 1966 Batmobile will appeal to toy collectors from any age group — even those enjoying retirement.
---
We've all got a soft spot for the Tumbler that Batman drove in the Christopher Nolan films, even the Batmobile from Tim Burton's take on the caped crusader was memorable. But nothing will ever top the sleek, art deco-inspired Batmobile from Batman: The Animated Series that many of us remember from our childhoods. So we're eternally grateful to DC Collectibles for bringing it back as a 60cm long masterpiece complete with working lights, steering and room for two 15cm figures.
---
Video: Editor Jacob T. Swinney put together this cool video showing the evolution of Batman from the 1943 serial to Nolan's blockbusters. Many things have changed: the suit, the vehicles, or even the psychological approach to the character. But others, like people's interest on this superhero, remain exactly the same.
---
If you've succumbed to the lure of the monstrous iPhone 6, you've already decided that a compact, pocket-friendly smartphone isn't for you. So when it comes to protecting your giant investment, why not just go all out and wrap it in this impressive case that's a near-perfect replica of the Batmobile from Tim Burton's Batman films.
---
Remember being insanely jealous of that little kid with the custom-made Groot swing? Well prepare to be envious of yet another toddler because the same web series responsible for that Guardians of the Galaxy swing — Super-Fan Builds — is back with a stroller designed and engineered to look exactly like the Tumbler Batmobile from the Christopher Nolan Dark Knight trilogy.
---
Toys: At first you'll probably be a little disappointed to learn that this incredibly-detailed 29-inch long model of the Batmobile used in the Tim Burton-era Batman films isn't fully remote control — you can't drive or steer it. But while it sits there looking beautiful, you can remotely deploy its pop-up machine guns, blast smoke from its afterburner, and trigger various accent lighting and sound effects, which is admittedly still pretty cool.
---