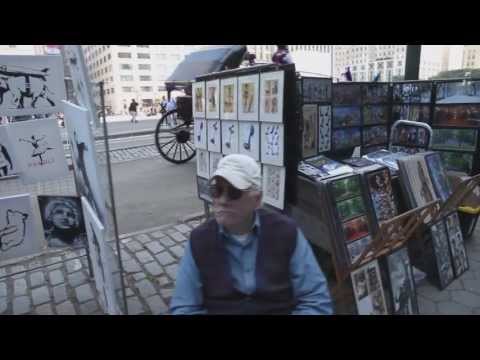 You missed it. On Saturday, Banksy set up a nondescript stall on the edge of Central Park, where he sold stencilled prints for $US60 a pop. The monkey with a sign, the guy with the flowers, the rat with the smirk — all the classics were there. Too bad nobody wanted them.
---
Banksy, the mysterious (er, kind of mysterious) British street artist who popularised stencils in the 2000s, is in New York this month to stage a 30-day exhibit that takes place entirely on the streets. His first piece, yesterday, has already been painted over. But we were able to locate today's feature, which is hidden below the High Line.
---
The video above is your only clue. Your mission, if you choose to accept it: find this signed and authenticated print of Banksy's "No Ball Games" within the next 30 days at one of the Art Series hotel chains — snatch it without getting nabbed and it's yours to keep. The piece is stashed somewhere in the Melbourne area and worth $15,000 Australian.
---
Thinking that Banksy is cool has become so mainstream that it's almost not cool anymore. But Banksy has never been more mysterious as his street art still magically manifests out of nowhere. And how many of his pieces have you seen? And where oh where can you even see them? This iPhone app tells you where.
---
We may be five days post-Halloween, but in my opinion costumes are good all-year 'round. Especially when they're as effective as George Schnakenberg's Banksy "flower thrower" stencil get-up. Bravo! [Craft via Boing Boing]
---