Loading page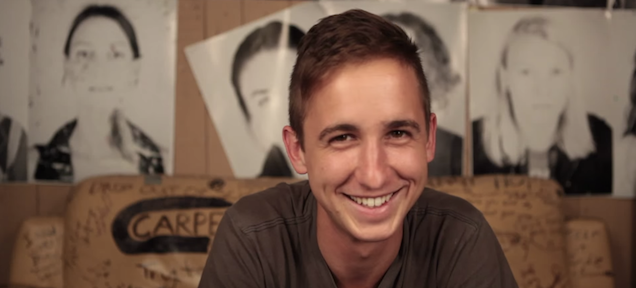 Coachella. Glastonbury. Bonnaroo. The Grammys. You name the music festival, Marcus Haney has somehow snuck into it. He makes fake passes, pretends to be the press, jump fences and does anything he can to get in and has somehow made friends with famous bands and shot their album covers. Here's the movie trailer for his story, No Cameras Allowed.
---
My favourite thing at the moment is augmented reality, so I'm completely in love with the video clip project for Sydney band Lost Valentinos song Nightmoves.
---
I can't think of a more old school, geeky tribute to Queen than a band comprised of an Atari 800XL, 8-inch floppy disk, 3.5-in hard drive and HP Scanjet 3C. If only it sounded better.
---
Ars rounds up iPhone apps released by a bunch of crappy bands so I don't have to—they're tacky trail mixes of promo clips with links to buy stuff, but point to a scary trend.
---
New Zealand's The Trons is a four piece rock band made up entirely of robots playing real instruments, performing real shows, and – rumour has it – taking advantage of real groupies.
---
newVideoPlayer("brazilhp.flv", 494, 300,""); On my last day in São Paulo, the good people we were working with on an upcoming Portuguese version of Giz with took us to some nightclub with an open roof and lots of beautiful younger people dancing and making out. Anyhow, here's the gadget party of this story: There was a band there playing called Inimigos da HP, or Enemies of HP. Yes, that HP. Apparently the members started playing together in college, but are mostly former engineers and industrial designers who were forced in their previously not-rockstar life to use HP calcs every day. I like their music. Now I'm in Rio, taking a long weekend. Going to the beach. I should have played more Wii Fit. [Wiki, Amazon]
---
Loading page