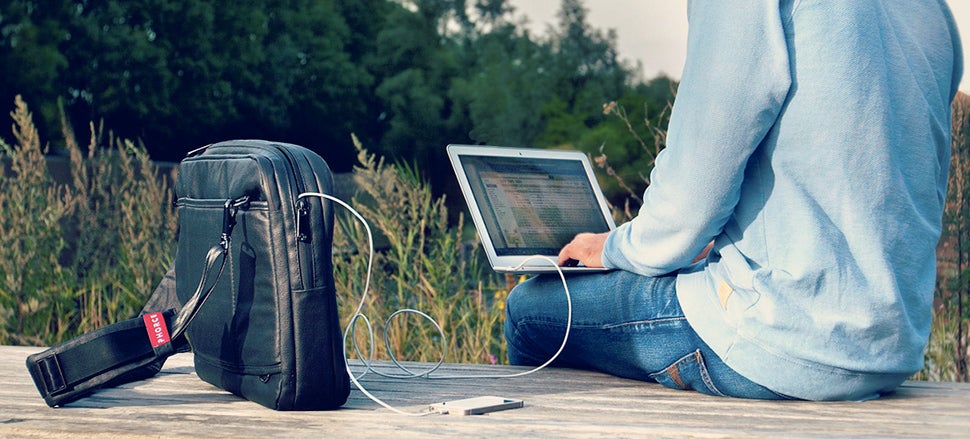 The bigger a portable charger you carry, the longer your gadgets can run while away from a power outlet. But backup batteries are heavy, so it's a tradeoff between capacity and what's comfortable to stash in your pocket. Unless you throw a bag like the Phorce over your shoulder, which makes it easy to haul around your toys, a laptop and 26,000mAh of extra power
---
United Airlines might soon want to rethink its Fly the Friendly Skies slogan as the battle for legroom and personal space aboard planes has recently turned very ugly. But who needs knee-defending contraptions or even reclining seats when all you really need to endure a long stressful flight is a relaxing foot massage courtesy of this laptop bag.
---
How many times have your plans for a relaxing Sunday afternoon picnic been foiled when you forgot something as simple as cutlery or wine glasses? It's an unfortunate first-world problem that Build NY is trying to solve with this generously sized pic-a-nic bag, which unzips to reveal everything four people could ever need for dining in a park — including a blanket.
---
You can try as hard as you want, but the laws of the universe dictate that anything crossing the threshold of a bathroom is going to eventually get wet — and that includes the toiletries bag you travel with. But even joining you in the shower won't bother this one, because it's made from a recycled fire hose.
---
If you're looking to get into the knockoff leather game, there could be pools of cold, hard cash in your future just waiting for you to go diving on in. All it takes is a little half-assery, a more-than-questionable moral compass, and the knowledge of where to actually cut those corners — which can be harder than it seems. Fortunately for you, Saddleback Leather CEO David Munson is here to show you how to fake his bags the right way — tongue, of course, planted firmly in cheek.
---
The laptop has made it possible for us to work almost anywhere on earth; from the cramped quarters of a plane seat, to a relaxing beach. But away from the privacy of your office, you often want to keep prying eyes off your screen, which is why this No. 1 leather laptop bag from La Fonction is so brilliant. It transforms into a tiny mobile cubicle, letting you work with adequate privacy no matter where you set up your temporary office.
---
It's all but impossible to leave your house with just your phone and wallet these days. You also need charging cables, maybe a backup battery, and a host of other accessories you probably can't survive the day without. In fact, most of us leave the house better equipped than astronaut's taking a spacewalk — which is why this sci-fi-inspired Space Odyssey messenger bag seems so fitting.
---
The Boy Scouts advocate always being prepared, and that motto is a lot easier to put into practice with this transforming waterproof jacket from Vamoose. When it's pouring it keeps you dry and protected from the rain, but when the storm passes the jacket transforms into a lightweight backpack so it's easy to carry in case inclement weather returns.
---