Loading page
The internet's obsession with all things bacon shows no signs of slowing, but for some reason it's happy to ignore the biggest downside to frying up that fat-filled treat: the layer of grease that ends up splattered all over your kitchen. At least someone has acknowledged the problem, and created a brilliantly simple solution.
---
Video: When you use a laser to cook bacon, you might not get the same invigorating, impossible to resist smell you do when you fry it but you do score some awesome points for using a freaking laser to cook bacon. Munchies went to Japan to see how laser cooking a bacon strip is done: it requires laser cutting tech and detailed mapping to cook the strip of bacon exactly the way you want it. Program the machine to point the beam where you want and pew pew bacon.
---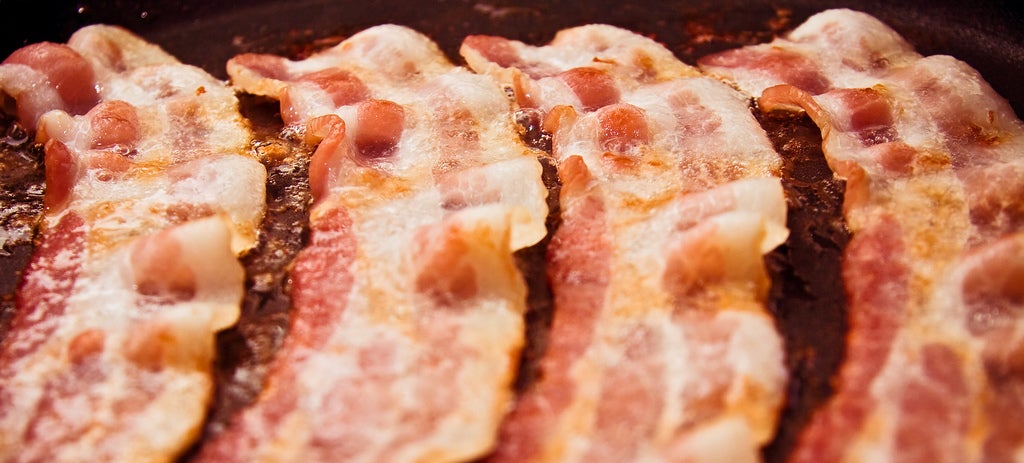 In a recent report on processed meat and risk of bowel cancer, the International Agency for Research on Cancer (IARC) stated: that each 50 gram portion of processed meat eaten daily increases the risk of colorectal cancer by 18 per cent. This method of communicating risk led to confusion and some hostile reactions. Scientists can explain risks of cancer and other diseases in several ways; some are easier to understand than others.
---
Video: Competitive shooter Dustin Ellermann cooks bacon using his M16 rifle in a video that is a perfect example of what MURICA, F**K YEAH means. To do that, he wrapped the bacon around the suppressor of his gun, covered it in aluminium foil, and fired the M16 until the heat made it nice and crispy.
---
Foodbeast found a new KFC Double Down burger that is even more insane than the original: the Zinger Double Down King at KFCs in Korea. Instead of just sandwiching bacon and cheese with two fried chicken filets, this Double Down uses the same fried chicken for buns but adds a sauced up burger patty in between too.
---
Biofuel was to be the saviour for our petrol-powered needs and while development is ongoing, it has yet to take over the world, with LPG and electric vehicles proving more popular alternatives. That hasn't stopped US food company Hormel, best known as the makers of spam, from converting a diesel motorcycle into one that can run on bacon. It even smells like bacon when you ride it.
---
This video explains what it is that makes everyone rush to the kitchen every time bacon is being fried. It has to do with the 150 volatile organic compounds that contribute to its incredibly meaty aroma. Now science has to explain why bacon makes every dish better although I guess it's for the same reason.
---
Loading page