Loading page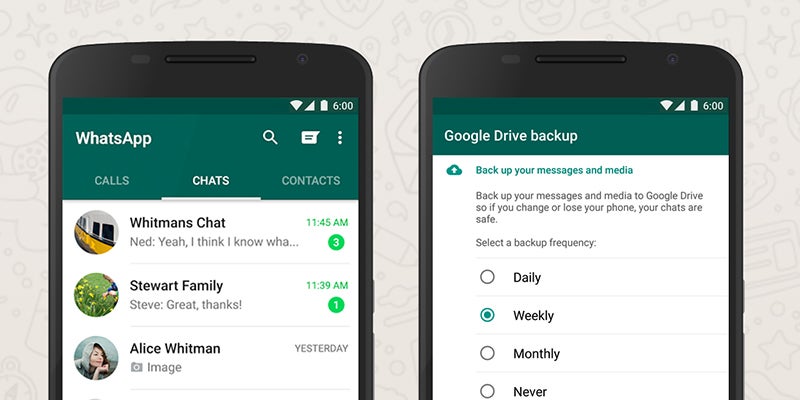 It's been a long time coming, but Google Drive backups have finally arrived in the WhatsApp client for Android (if you don't see the option yet, you should soon). Here's how to make sure all your chats, photos, and videos are safe and sound, and how to get them back again if you need to.
---
When I joined Gmail in 2007 the concept of eliminating deleter's regret changed how I managed all of my data. I went from keeping important things and purging everything else to implementing archive mentality in my whole life. Now I only think twice about keeping huge photo dumps or files larger than about 500MB. Other than that I save everything.
---
As great as your smartphone is, there are plenty of things you just don't want to look at on there; you'd rather have them on that big ol' computer screen of yours. Now Bump, which previously let you throw data from phone to phone, is here to help by making it ludicrously easy to get pictures, links or whathaveyou from your phone to your computer.
---
---
We're liking the looks of Mac OS 10.7 Lion, but it's a little annoying that you can only get it through the Mac App Store. It turns out, however, that there's a pretty easy, if unsanctioned, way to burn it to a DVD.
---
Corrupt system files, account lockouts and accidentally deleted data are three scary computer problems that often send people running for their backup drives. While restoring a backup may technically fix things, a full system backup is usually a very time-consuming overkill in these cases, and nobody likes the time-warp effect of restoring one (e.g. if your last full backup ran a week ago). When these problems occur, fixing them can be far simpler than you might think.
---
Being a Giz reader, you're sure to have at least one, and probably two backups of your important documents. But a story in The Canberra Times is a timely reminder that having all your backups next to eachother is no backup solution at all.
---
If you've been backing up your Pre, you might think that if you, say, drop it in the toilet, you'll be set to have all your data placed on a replacement. That might not be the case.
---
Loading page