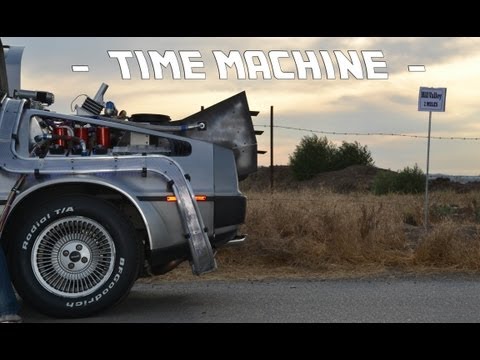 Some people are movie fans. Others are fanatics. And then there's Lenny Hochteil, the man who built a DeLorean time machine just like the one in Back to the Future. It's got a flux capacitor, gullwing doors and ground effects. And, yes, he does dress up like Doc Brown when he drives it.
---
---
Trumped only by the time-travelling Delorean itself as the greatest movie plot device of all time, the copy of Grays Sport Almanac that put the events of Back to the Future II into motion can now be yours — as an iPad case. Gone are the pages and pages of sports scores and statistics, not that they'd be any good to you for predicting the future anyways, because they only go up to the year 2000.
---
---
Although the Nike MAGs are already nostalgically beautiful in their own Back to the Future style, this custom Iron Man version of the Nike MAGs transforms the boot into something even more futuristic. Something that Tony Stark would invent. Something that you could imagine as part of Iron Man's armour. Something that I so desperately want.
---
Everyone wants a hoverboard. Everyone. Don't even try to disagree. But while you can buy a lame-o, non-working Back to the Future-style 'board, it's just not the real thing. Crazy optimists can hold out hope for 2015, but in the meantime, this clever little picture by François Dourlen is probably the best we can do.
---
Ali Razeghi, an Iranian scientist who is the managing director of Iran's Centre for Strategic Inventions, has done something only the great Doc Brown has done: he's created a time machine. But unlike Doc's DeLorean, Razeghi's "The Aryayek Time travelling Machine" can only take you to the future. What are we waiting for? Let's go!
---
This short film, "Hoverboard", is about a girl and her teddy bear trying to create a hoverboard after watching Back to the Future II. I can totally relate to her because I was trying to make my own hoverboard really hover just last month. You're an inspiration girl!
---
If you loved the Back To The Future speedrun video, you're going to love The Matrix one. Get in here and enjoy classic sci-fi cinema in just 60 seconds.
---