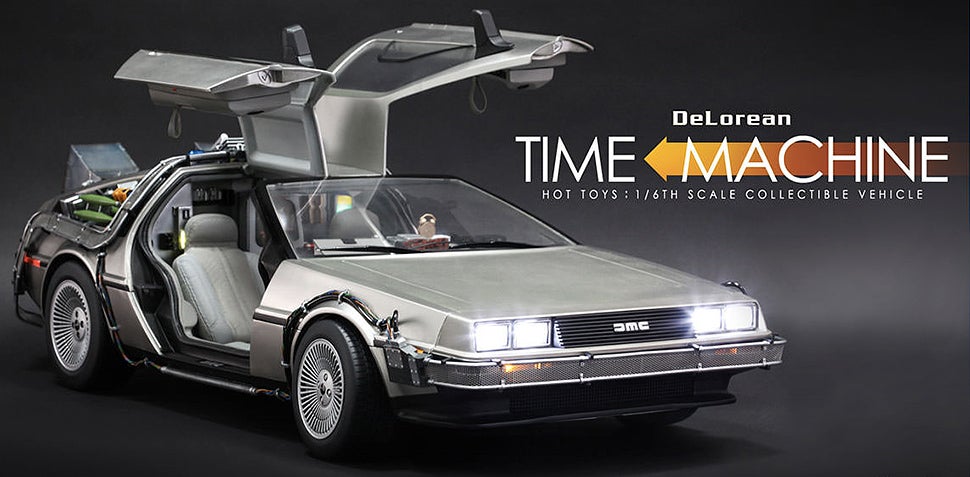 Next to the lightsabers from Star Wars, the time-travelling DeLorean from the Back to the Future trilogy has to be one of the most recognisable film props ever created. Countless die-hard fans have even gone as far as to buy and modify real-life DeLoreans to look like the one seen in the films, but Sideshow Collectibles has a slightly cheaper way to get your own — but just barely.
---
Video: I don't know who would win the race between Optimus Prime, the Batmobile and a DeLorean time machine. Probably the DeLorean, since it can travel to the future and win right away, right? This cool stop-motion short by Taiwanese animator Counter656 says otherwise.
---
Did you ever dream of visiting the small town in Back to the Future? Well, now might be your chance. A group called Secret Cinema is building a full-scale version of Hill Valley in a secret London location in coming weeks. And rumour has it that you'll be able to immerse yourself in not only the 1955 and 1985 version — but there will be a secret portal to the 2015 version as well.
---
Video: When you talk about timeless film trilogies, Back To The Future is up there with one of the best of all time, even if it struggled towards the end. Thankfully, Seth MacFarlane of Family Guy and Cosmos fame (yes, really) decided to throw a cute Back To The Future Joke into the trailer for A Million Ways To Die In The West, starring Doc Brown himself.
---
Do you remember the movie Back to the Future II and its vision of technology in 2015? Marty and Doc arrived in a world with giant shark holograms for movie adverts, flying cars, hoverboards and massive interactive screens on every surface. The problem is, that's not where we are going.
---
Hadley Freeman over at The Guardian has declared that Back to the Future is this season's big fashion trend. Which makes complete sense, right? It's almost the year 2015 — the very year that Marty visits in the BTTF sequel — so bring on those Nike powerlaces and hoverboard-friendly sneakers! Or not.
---