Is it cruel to have children when the world is so terrible? That's not a new question. And when a newspaper columnist asked it in 1989, he came down on the side of no. The world of the future — the world of 2014, to be exact — was going to be just wonderful enough that having kids was a great idea. Was he right?
---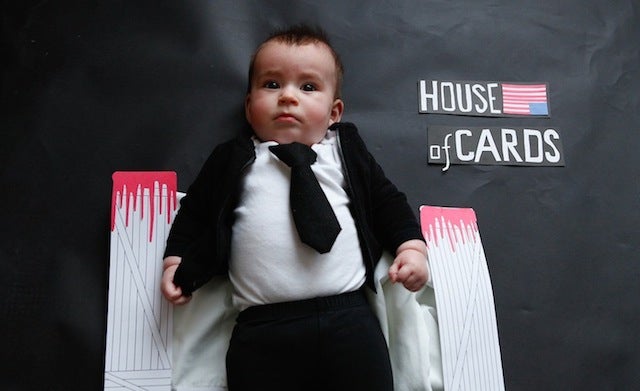 ---
If you don't have kids, you might find it hard to believe that baby bottles don't come standard with this springy shock-absorbing and easy-to-grip silicone rollcage. The Ba Baby Bottle Holder is actually a $US15 aftermarket accessory for bottles that makes them easier for babies to grip, and better suited to surviving being thrown across a room.
---
We here at Gizmodo enjoy a rich, vibranthistory of tiny creatures riding Roombas. So naturally, we can think of no better way to welcome Baby New Year than with an actual baby. Riding a Roomba. Straight into 2014 and into our hearts. Our clean, dust-free hearts. [@hellogiggle via Kyle Wagner]
---
Aww. This is adorable. Lilly and Leon Mackie play dress up with their little kid Orson and turn him into baby versions of Luke Skywalker, baby Batman, baby Macaulay Culkin, baby Castaway and so forth so that they could recreate scenes from famous movies. You'll see mum, dad and child pose for photos of baby versions of Star Wars, Jurassic Park, Die Hard, Terminator, Jaws and so many more classics. Orson is going to grow up awesome.
---
If you need a little something in the evening to take the edge off a hectic day at work, just stop and imagine what your toddler has to go through. Constant nappy changes, being force fed pureed crap at every meal, and pre-arranged playdates with whiny, crying kids they can't escape. If a martini helps you relax, there's no reason to believe this adorable martini glass rattle wouldn't do the same for your kids.
---
Unless you've been living under a rock, you've doubtlessly heard that Prince William and Kate Middleton have just sired a royal sprog for elderly ladies to coo over in Woman's Weekly. At present, the future monarch has yet to be named, but we're willing to bet that the following Aussie monikers aren't on the shortlist…
---