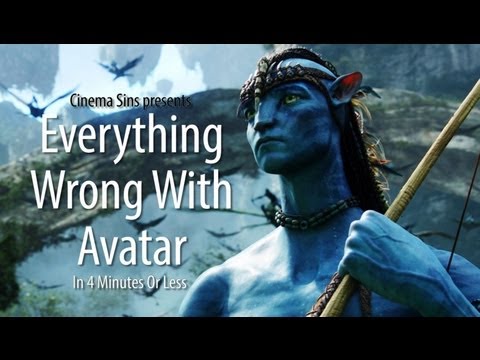 Do you remember watching Avatar? It was a pretty long time ago! And though it looked amazing in 3D IMAX (and not so amazing on sad old DVD) there were definitely things wrong with the movie. Like how it was Pocahontas or Dancing With The Wolves with a giant blue man group. Or how it was only fun when you watched it in 3D. Anyway, Cinema Sins takes Avatar to task and finds everything wrong with the movie in less than 4 minutes. [Cinema Sins]
---
James Cameron is a man of many talents — deep sea photography being the most recent — but he's also the name behind many great movies, as well as a few not-so-great ones. All those are behind him now, though; according to the man himself the only thing that he's going to be making from now on are Avatar movies.
---
Hey film producers: the awesome 3D tech built by the Cameron Pace Group (CPG) for films like Avatar is heading to Oz. Says the director, "3D is the future for both film and broadcasting. We are very excited about enabling more world-class 3D productions in Australia."
---
The special features you get with iTunes' movies aren't really that special. Well, if anyone is going to do something about it, it's James Cameron. Say what you want about the guy, he's always pushing the technological envelope.
---
James Cameron loves 3D a whole lot, and he's still passionately pushing for cinemas to adopt 60 frame per second projection, arguing it'll make for better 3D.
---
---
Rise of the Planet of the Apes hit cinemas yesterday, and for a special effects blockbuster, I was surprised by its cautionary tone and heart. The film centres on main ape, Caesar, an amazing CG realisation from Weta Digital and Andy "Gollum" Serkis. I sat down with Senior Visual Effects Supervisor, Joe Letteri, to ask how performance capture has progressed since Avatar and Lord of the Rings, and find out if Weta has contemplated video games.
---
Avatar Kinect, the not-quite-creepy smirking, winking virtual you, is launching today Kinect Fun Labs. It tracks your eyebrows, mouth and other points on your face to translate your real-world expressions into their polygonal equivalent. This is how it works.
---