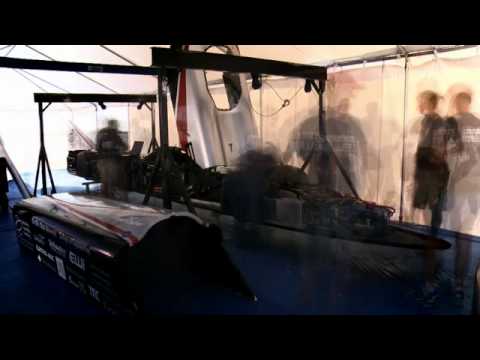 While cars like the Nissan Leaf and Tesla S are bringing electric vehicle technology mainstream, a team of student researchers are driving that technology to its very limit. The result: a record-shattering 483km/h bullet car that runs without a sip of gasoline.
---
In a sport where the difference between winning and losing is measured in thousandths of a second, squeezing every last ounce of speed out of your F1 racecar is absolutely imperative. A new collaboration between GE and Caterham aims to do just that — by leveraging the power of big data and materials science.
---
There are a lot of things that can go wrong with the 140,695 miles of railroad covering America. The tracks have to be inspected regularly and, rather than send crews out in full-sized train cars, these modified automobiles often did the job.
---
---
There are only 1500 Tesla Roadsters in existence, and they're not cheap. But if you live in San Francisco and are over 30, you can still get your hands on one; for $US25 an hour, that is.
---
Queensland, Australia is in the midst of a massive flooding disaster that's already claimed (at least) eight lives. Now, we've got some amazing amateur video of the flooding that shows—in horrifying glory—its full, powerful, car-moving devastation. Watch inside.
---
A project funded by the European Commission is working to develop an infrastructure for self-driving cars. The system, called SARTRE (Safe Road Trains for the Environment), will allow cars to autonomously travel in a convoy. Also, testing begins NOW.
---