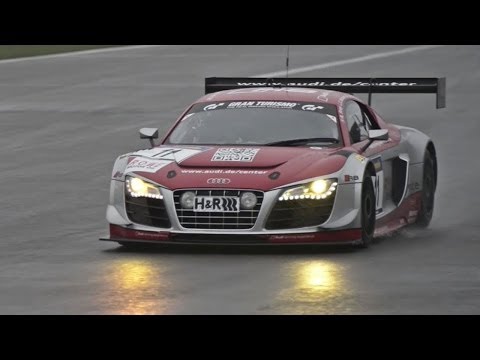 The V10 Audi R8 is a spectacular car. What else needs to be done to it to turn it into a racing car? What's the real differences between driving a supercar and a racing car?
---
---
The only thing more annoying than having to obey the speed limit when driving is having to frequently stop at red lights. So in a brilliant attempt to become the world's awesomest automaker, Audi has created a new in-dash system that tells you how fast or slow you need to drive in order to hit as many green lights as possible.
---
Here in Las Vegas at CES, Audi has showcased continued work on its self-driving 'piloted drive' efforts — currently housed in a stylish A7 concept car. While brains of the 'zFAS' system need the power to continually monitor surroundings and plan or control trajectory, Audi's engineers have shrunk the components down to the size of an iPad. The future is coming. Take a look…
---
---
---
The Wall Street Journal is reporting that Google has been working with Audi to develop in-car entertainment and information systems based on Android — and the pair plan to make an announcement at next week's Consumer Electronics Show in Las Vegas.
---
Before you scoff in disbelief at the $450 price tag on this adorable children's toy, remember that you're actually getting two ride-ons for the price of one here. The Mini Runner, made from a hydroformed lightweight aluminium frame, converts from a sit down balance bike to a standing scooter with minimal fuss and muss.
---
Taking inspiration from Porsche's decision to break out into designing everything from sleds to mobile phones, Audi's decided that it now wants to apply its design chops to beautiful objects without four wheels. And the car maker's first creation is a stunning see-through table clock that leaves its complex engine completely exposed and visible — not hidden beneath a bonnet.
---