Why is that everyone else has cooler business cards than you? Short of crafting one yourself that transforms into a fully-functional spaceship, it's unlikely you'll ever blow the pants of people with a hard piece of paper with your contact details on it. Unless you're Auckland-based designer Anthony Cole, who went to the trouble of making his business card double as a decorative Swiss Army knife.
---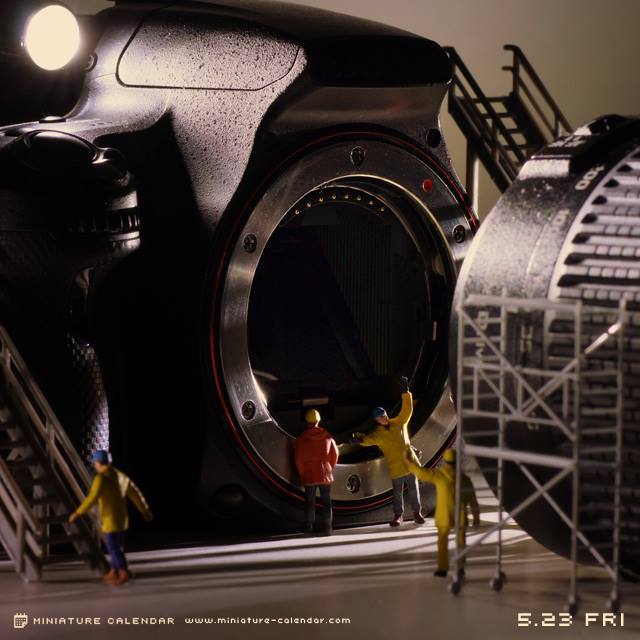 In this wild world, there is love, and there is crazy love. And then there's just crazy. Tanaka Tatsuya is full of all three. This wildly passionate Japanese artist creates adorable dioramas with miniature figurines and every day objects. The crazy part is that Tatsuya builds and photographs one of these intricate little creations every day. Some — say, soldiers marching over Oreos — are more complicated than others — say, sumo wrestlers facing off on an iPod.
---
I've been craving a good burger lately and looking at these fantastic burger pictures from Fat & Furious is not helping me at all. Some of them look absolutely delicious, others look crazy and surreal, and all of them are photoshopped and heavily styled. It doesn't matter: I would like a bite of every single one of them.
---
Body painter Trina Merry hides the naked human body in plain sight by painting women exactly like the background of New York City. At the right angle, the women are essentially camouflaged because they blend in seamlessly with the cityscape. It's pretty amazing how perfect the paint is. NSFW.
---
Drinking tea is already a pretty chilled out activity. The aromatic steam, the cozy cup, the soothing liquid, the overwhelming sensation of warmth and health. It's like a spa for your mouth. If you want to take your tea-drinking zen levels from Richard Gere to Dalai Lama, though, I have located the perfect tea accoutrement with which to elevate the calm to monk levels: Artonomos' beautiful tea tray, "Confluence."
---
What is art? For this eBay seller it's something as simple as a 4Chan post. Originally caught by Artnet, a vendor known only as "Artwork by Anonymous" turned the above piece of what would usually be everyday internet ephemera into a $US90,900 masterpiece. The lucky buyer also gets free expedited shipping.
---
We've gotten a peek at some of the other structures being built for the food-themed Milan Expo 2015, from a smog-gobbling facade for Italy to a veggie-growing restaurant for France. Now here's the American pavilion, which is inspired by three signature food-related structures for the US: A barn, a boardwalk and — of course! — food trucks.
---

Antonio Basoli was an Italian artist that lived between the 18th and the 19th century working mostly in Bologna. Among other things, he created these beautiful architectural alphabet engravings called Alfabeto Pittorico. I wish there was a place called Alphabet City* where all these buildings were real.
---