Whoa. Benjamin Ducroz's Spinning Daggers installation places totally trippy wooden zoetrope sculptures next to trees and the effect is pretty mind melting. It's really interesting to see nature next to these man made objects that move in ways that are totally unnatural and yet so very natural all at the same time.
---
Damn. That laser is something. It's a specially designed LasX proton laser art system that blasts a beam to make art at lightning speeds. The CAD file for the design, called After Sunset, was created by Andy Gikling and was imported to the laser control software and then zapped out onto the chalkboard to etch the design. How cool is that?
---
Bruce Shapiro's Sisyphus is a magic machine that shows a steel ball rolling around in the sand to create wonderfully intricate sand drawings. The balls are all controlled with magnets but they seem to have a mind of their own. It's like making a Zen Garden, only with the sorcery of magnets instead of old style rakes.
---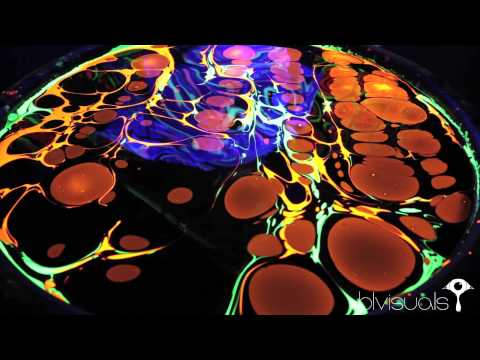 Video: Outside of magnets and like, vinyl records, the closest thing we have to magical sorcery is liquid paint. Watch as Brad Lawrence shows off another level of the amazingness that is painting by water: liquid body paint that only shows up only under a black light. It's like the most subtly loud temporary tattoo a person could get.
---
Not every artistic creation is an instant masterpiece, that's why there are Moleskine sketchbooks. But where perfection really counts is with tattoos, so a magazine dedicated to the craft created a sketchbook made of artificial skin that lets amateur tattoo artists hone their skills. It's like an unholy grimoire for artists.
---
Anyone with motor skills and a place on their head to chew food substance loves ramen. It could be fancy, it could be instant, it could be piping hot, it could even be cold, it could be dipped, it could be weird, but it is almost always fun to eat. Designer Fanny Cheuk Chu wanted to document the many different styles of ramen so she created this tongue-waggingly delicious illustration of the top 25 most common styles of ramen.
---
---