There's a whole world of potential in a blank sheet of paper, but few folks can turn something flimsy and flat into 3D magic like Irving Harper. The creative legend — now 98 years-old! — did industrial and graphic design for Herman Miller during its dynamic mid-century era, but his legacy also includes an incredible personal collection of paper sculptures.
---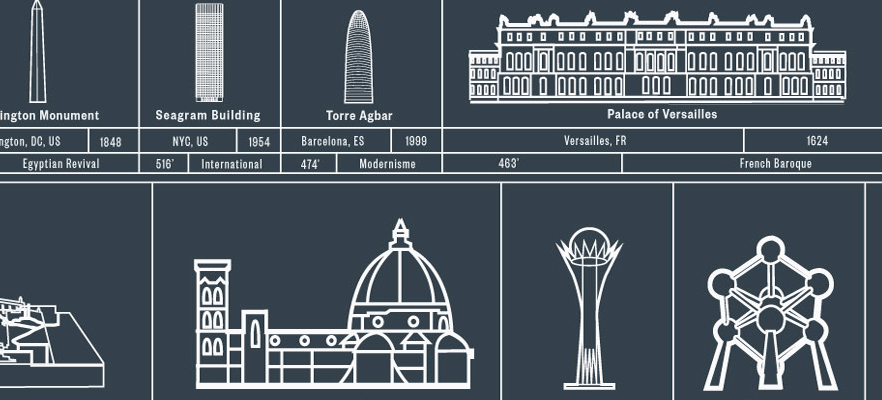 Do you love architecture? Like, really, really love it? The Schematic of Structures is the latest poster by the chronic catalogers at Popchartlab, showing bitty, blueprint-esque icons of famous constructions from Stonehenge to the Burj Khalifa. Owning one and hanging it on your wall would be a great way to publicly show your appreciation for mankind's most significant erections — you know, the building kind.
---
All art can stop being made because this is it. This is the best. Photographer Sandro Miller and John Malkovich teamed up to recreate famous portraits from history in their photo series Malkovich, Malkovich, Malkovich: Homage to Photographic Masters and it's absolutely perfect. And hilarious. And the best.
---
Ever notice how all the faces are blurred in Google Street View photos? That happens thanks to a privacy-enabling robot. But it's not a perfect robot. The Google Street View robot not only blurs the faces of humans but also of statues, despite the fact that statues have no notion of privacy. Makes you think, doesn't it?
---
Video: This is Amelia Rudolph and Roel Seeker suspended on the wall of Oakland's City Hall, dancing like some kind of fairies or angels. The effect of them moving over the building's façade as it if were the ground is disoriented but really beautiful. I can watch them doing this forever.
---
British artist Michel Gillette got inspired by Ian Fleming's seductive Bond girls to make these instantly classic book covers in 2009. They are now available for sale as a limited, hand-numbered high quality series printed on 100% cotton, hand torn paper. Each print is signed and numbered in pencil by Gillette.
---
Mark Landis is a small, soft-spoken, 59-year old man living in small-town Mississippi. For three decades, he used plain old coloured pencils, magic markers, and acrylic paints to replicate — like, exactly, uncannily replicate — masterworks by everyone from Picasso to Walt Disney while hunched over an unmade bed in his cluttered apartment, watching old films on Turner Classic Movies.
---
Video: Police have released this hilarious security camera video of a young man trying to steal an art piece that commemorates World War I from the Castle Fine Art Gallery in Birmingham, England. Obviously, the gallery's security staff caught him as he stepped out of the museum.
---