If you've ever been to the Louisiana Museum in Denmark, you know it's one of the most dramatic museum locations around: Perched on a rocky cliff above Øresund, looking out over the ocean, it's easy to find yourself staring out to sea instead of at the art. Now, Olafur Eliasson has brought the landscape inside the museum.
---

---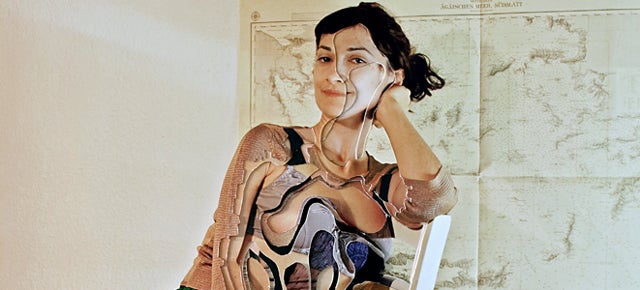 Berlin-based artist Michael Lamoller uses analogue editing techniques to create super trippy timelapse portraits of people in a series called "Tatochronos". The portraits are collaged upon one another from several printed images, cut up, and then layered. The look results in a cutaway-style collage of a person.
---
Videos: Australian artist Andy Thomas recently built a visualiser for bird songs, the latest in his fascinating line up of so-called "audio life forms". As the term implies, these gorgeous creations look like the sounds they represent and react accordingly. The end result is an acid trip of an experience.
---
Here's how Charles Schulz, the trailblazing cartoonist who created Peanuts, drew Charlie Brown. I love his sure strokes and how he builds out the character but most importantly, I love how he's done in less than half a minute.
---
The Creators Project points to a neat little project where famous works of art are rearranged and transformed into other famous works of art. So the Mona Lisa can become American Gothic and vice versa. It's like seeing art become a wonderful illusion.
---
Got a blank wall that needs a little love? I dare you to browse the prints at 3 Fish Studios and not find something you want to mount proudly in your apartment. Check it out: Godzilla! Robots! Ballparks! Architectural landmarks! Iconic landscapes! Old school game controllers! Mid-century-freaking-furniture!
---
Why is that everyone else has cooler business cards than you? Short of crafting one yourself that transforms into a fully-functional spaceship, it's unlikely you'll ever blow the pants of people with a hard piece of paper with your contact details on it. Unless you're Auckland-based designer Anthony Cole, who went to the trouble of making his business card double as a decorative Swiss Army knife.
---