Photographer Leonie Versantvoort created this Bellypaint photo with body painter Marieke van den Dungen-Crone that cleverly and beautifully shows how a baby looks inside a pregnant mother's body. It's obviously not super scientific but it's really cool to see how a woman's body adapts it body to become a home for them little humans.
---
Staring at a Van Gogh painting can let you see things like you've never seen them before. Stepping into a Van Gogh painting that has been brought to life in 3D can make you feel like you're in a brand new world inside the wild mind of the artist himself. Check out this trippy 3D version of Van Gogh's The Night Cafe, it's a fun trip.
---
---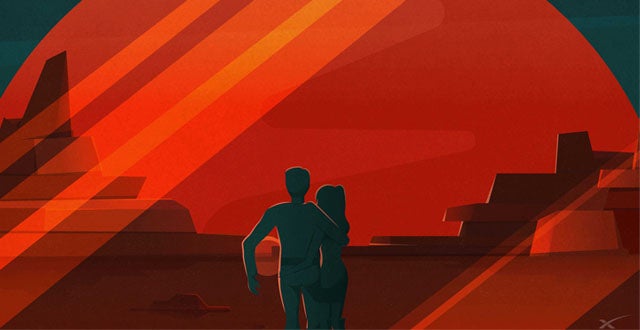 Everybody wants to go to Mars these days, not least of all Elon Musk, who might very well be hoping to retire there after he turns into a cyborg. But for those of you who haven't jumped on the bandwagon yet, SpaceX just dropped some travel posters of the Red Planet to entice you.
---
Artist Daniel Kamarudin made these excellent illustrations that reimagines The Avengers characters as you know it. He took what we saw in the Marvel movies and turned them darker and added more of a fantasy flair to them. His depictions are great, I wouldn't mind reading a story illustrated in this way.
---
My eyes mislead me. Even though this photo looks so perfect that it must be CGI or digitally manipulated, it's completely real. Artists Lernert and Sander took raw food — you can see meat and seafood and fruits and vegetables — and cut them into perfectly identical cubes and laid them out to form a perfect grid. Perfect!
---
Video: I love occasionally blowing my brain up and nothing does it quite like when I see something that looks real but is actually a perfect photo-realistic drawing. Take this glass of water, it's drawn with such skill and shading and angling and plays on your perspective so well that I feel like I can reach out and take a sip.
---
Marc Hagan-Guirey — or the "Paper Dandy" — is an artist from the UK that is rather good at "kirigami". It's a bit like origami, except you cut the paper in such a way that it sits up, much like a pop-up book. Hagan-Guirey decided to put his talents towards crafting unbelievably awesome-looking pieces influenced by Star Wars, including the Millennium Falcon.
---