Remember that scene in American Hustle when Jennifer Lawrence's character sticks some metal in the microwave? It starts a fire and Lawrence's character dismisses the entire technology, claiming that it zaps the nutrition out of food. She even has an article to back up her claim. Now the real life scientist who was quoted for that real life article is suing for $US1 million, claiming libel and defamation.
---
Induction stove tops might be more energy-efficient than electric or gas burners, but many chefs miss the obvious visual cues about what temperature they're cooking at — a red-hot burner is hard to misinterpret. So for its new Chef Collection Induction Slide-in Range, Samsung is introducing a clever new feature that uses LEDs to project fake flickering flames onto the side of a pot.
---
If the motor burns out on a cheap desk fan, or the power switch breaks on a simple hand mixer, you're not going to have them repaired. But just replacing cheap appliances is pretty wasteful, so using 3D-printing techniques and standard components, a group of designers have proposed a sort of building kit for creating useful household appliances instead of toys.
---
Quirky's approach of bringing user-submitted inventions to life pre-dates Kickstarter by quite a few years. And the company's track record at successfully producing these often highly original creations means you can actually get excited about a wafflemaker that lets you create custom pixelated images every morning. What a time to be alive.
---
Mixing and kneading dough for bread can be a back-breaking process. It's a chore best left to a grandparent who's been doing it all their life — or a machine like Bosch's new MaxxiMUM mixer, which actually looks like a robotic arm from an automotive factory that was laid off but has since found other work.
---
It's apparently taken some 27 years for a marketing genius at Paramount to realise that the cube-shaped Borg ship introduced in Star Trek: The Next Generation bears an uncanny resemblance to a mini fridge. But someone has finally put two and two together resulting in what's easily one of the best Star Trek-themed products of the past 20+ years.
---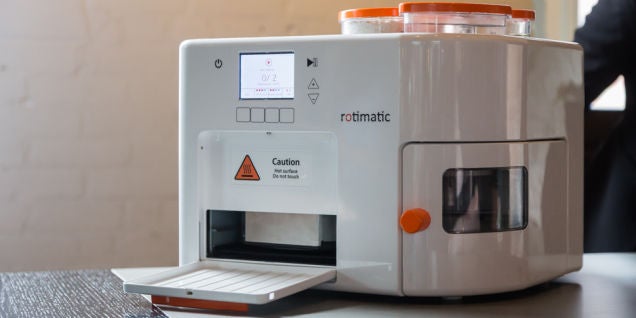 For about a billion people across the world, nothing is more fundamental to food than fresh, delicious roti. So it's unfortunate that a batch of five can take half an hour or more to make. But all that's about to be a thing of the past, thanks to the Rotimatic: The first fully-automated appliance that can churn out one roti every minute — and Gizmodo recently got to see it in action.
---