After getting sucked on and eaten by his best friend Patrick Star, scientifically accurate SpongeBob Squarepants as imagined by ADHD is destined for a life of cleaning dishes. That caps a hilariously sad life of basically being immobile at the bottom of the ocean with "friends" who are killer creatures.
---
Briefly: Mixing a manic first person prelude with a grotesquely deformed claymation style reminiscent of Adam Jones' work for Tool, animator Sunshaku Hayashi delivers a hypnotizingly frantic story of police brutality, death, and zombied rebirth. And how to make all of it out of little balls of clay.
---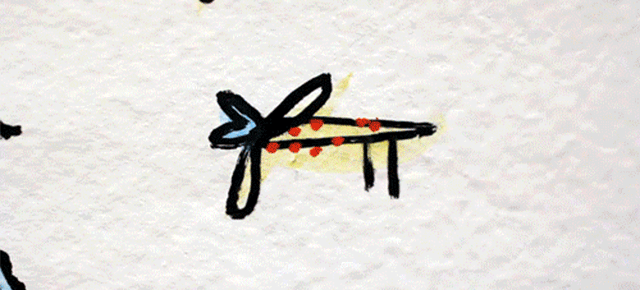 ---
All anyone ever wanted to talk about for the past few months has been Frozen. It's so fun! The songs are so good! We want to lip sync them! Disney Animation is better than Pixar now! And so on and so on.
---
Video: Andre Maat had the brilliant idea to play with the shape and consistency of wood in his stop-motion video Woodoo and it warps the naturally stiff material into a living, breathing (and smoking object). The execution is pretty fantastic, each shape fluidly transforms into another. I love it when things do things they're not supposed to.
---
You don't need amazing computer graphics, bowel-jiggling surround sound, or eye-popping 3D effects to make a powerful film. In fact, all you really need is a tall stack of yellow sticky notes and a black pen. And a whole lot of talent. Luckily, the 15 animators who helped make this short film had all of those in abundance.
---
Briefly: Look, I gotta be honest, I've watched this video a good half dozen times already and I still have no clue as to what the hell is going on. I'm assuming that this is what happens when you feed the Internet peyote, but there's really no way to be sure.
---
A girl named Elastika lives in a world made of office supplies, but her escapades are a far cry from cubicle drudgery. With just some pushpins and rubber bands, filmmaker Guillaume Blanchet takes her — and us — around the world in screeching cars, sinking ships, and even rockets. Can you catch all the famous sights that pop up cleverly animated in office supplies?
---
Video: It takes a special breed of traveller to own a VW Vanagon. These quirky people-movers are far from the most luxurious whips on the road but they always seem to arrive at the most scenic of destinations. Or the garage. Because these things break down — a lot.
---