For a brief moment, the internet was captivated by the thought of geckos copulating madly in a lost Russian satellite. Russia has since regained control of its lizard-sex orbiter, but the whole episode has gifted us an opportunity to consider a topic of extremely legitimate scientific interest. Namely, lizard sex in space.
---
Video: This footage of a desert cat taking out a bird in mid-flight is another impressive reminder of the astonishing power of natural evolution. The small but agile caracal uses 20 muscles — in three distinct groups — to independently control each of its ears, which act as supersensitive parabolic sound antennas.
---
Video: I love it when animals can solve puzzles and problems that I can't even figure out. Here's a crow going through a bunch of different exercises to show its understanding of size, weight, density, the elements and even the amount of effort it should put in to a puzzle to win its reward.
---
Crocodile purses, polar bear rugs, ivory chalices — they're all illegal in the US. Confiscated pieces end up in a warehouse outside Denver, Colorado, named the National Wildlife Property Repository, a haunting space filled with the frozen faces of endangered and extinct creatures.
---
Don't be surprised if in the future crazy scientists will have tampered with genetics so much that they will create insane animal hybrid mashups. And not just designer dogs but psycho frigs, horsquirrels, eagluanas and chinchillapotamuses. They will probably look a lot like these excellent photoshopped animals.
---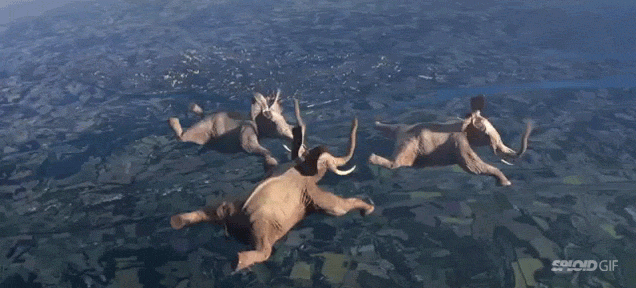 Video: Watch a bunch of elephants, giraffes, turtles and ostriches doing extreme human stunts like skydiving, riding roller coasters, walking a tightrope, skateboarding a half pipe and so forth — thanks to the magic of computers, of course. It's ok, there's no need to call RSPCA. The elephants are not real. For an old ad campaign for France 3. It's cute and ticklish to imagine real animals wanting to do the crazy stuff we do.
---
This big black blob that recently appeared off the San Diego coast looks like the fallout from an oil spill, or an undersea plague coming to haunt humans and probably steal their souls. In reality, it's a massive school of anchovies — harmless enough that people are actually snorkelling through the dark mass of fish.
---
After enjoying a tiny burrito two months ago, tiny hamster just went to a birthday party for his prickly friend tiny porcupine. Like most human birthday parties, the miniature animals were served birthday cakes. It seemed like tiny hamster enjoyed his cake more than tiny porcupine though.
---
Wow. A newly discovered flying bird species had a wingspan that stretched 24 feet long — as big as some aircraft. That's pretty much a flying giant in the sky that's twice as big as anything that can fly today. In fact, the bird, Pelagornis sandersi, is so ginormous that it exceeds our estimates "for the limits of powered flight".
---