Sometimes the shark plays the role of David. Especially when it goes up against the giant Goliath Grouper who looks more like a swimming Godzilla than a fish. And in real life, David the shark doesn't have a shot against the Goliath fish because the ginormous creature can swallow the 1.2m shark whole in one bite.
---
Video: I love dogs. I love magic tricks. I love sausages. Obviously, I was bound to love this video of dogs reacting to magic flying sausages. I like the fact that some of them get so freaked out at the sight of a delicious treat floating in front of them — but others just don't give a damn.
---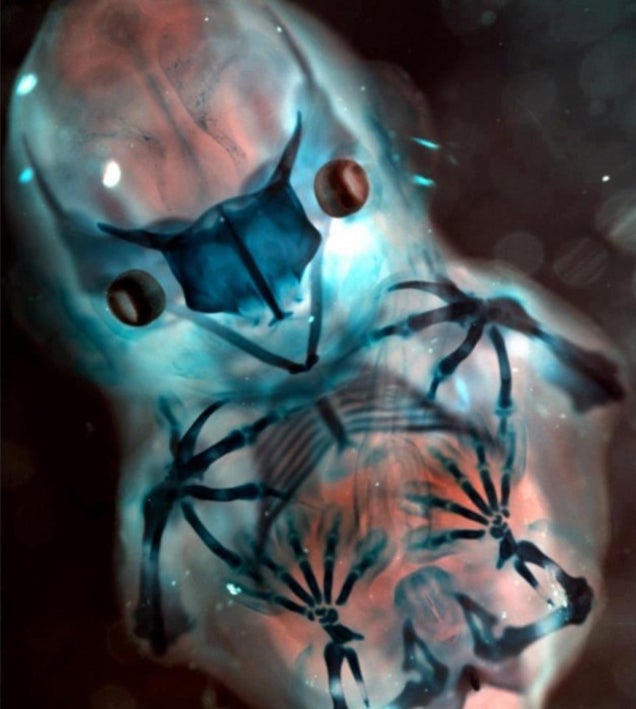 ---
For a brief moment, the internet was captivated by the thought of geckos copulating madly in a lost Russian satellite. Russia has since regained control of its lizard-sex orbiter, but the whole episode has gifted us an opportunity to consider a topic of extremely legitimate scientific interest. Namely, lizard sex in space.
---
Video: This footage of a desert cat taking out a bird in mid-flight is another impressive reminder of the astonishing power of natural evolution. The small but agile caracal uses 20 muscles — in three distinct groups — to independently control each of its ears, which act as supersensitive parabolic sound antennas.
---
Video: I love it when animals can solve puzzles and problems that I can't even figure out. Here's a crow going through a bunch of different exercises to show its understanding of size, weight, density, the elements and even the amount of effort it should put in to a puzzle to win its reward.
---
Crocodile purses, polar bear rugs, ivory chalices — they're all illegal in the US. Confiscated pieces end up in a warehouse outside Denver, Colorado, named the National Wildlife Property Repository, a haunting space filled with the frozen faces of endangered and extinct creatures.
---