Crocodile purses, polar bear rugs, ivory chalices — they're all illegal in the US. Confiscated pieces end up in a warehouse outside Denver, Colorado, named the National Wildlife Property Repository, a haunting space filled with the frozen faces of endangered and extinct creatures.
---
Don't be surprised if in the future crazy scientists will have tampered with genetics so much that they will create insane animal hybrid mashups. And not just designer dogs but psycho frigs, horsquirrels, eagluanas and chinchillapotamuses. They will probably look a lot like these excellent photoshopped animals.
---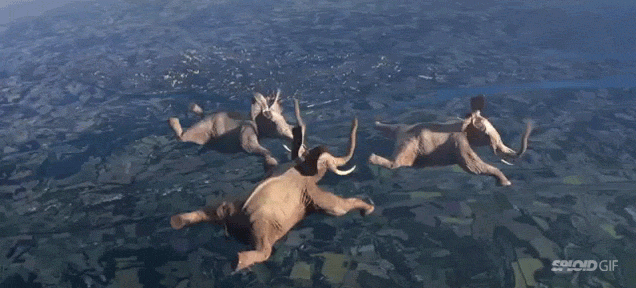 Video: Watch a bunch of elephants, giraffes, turtles and ostriches doing extreme human stunts like skydiving, riding roller coasters, walking a tightrope, skateboarding a half pipe and so forth — thanks to the magic of computers, of course. It's ok, there's no need to call RSPCA. The elephants are not real. For an old ad campaign for France 3. It's cute and ticklish to imagine real animals wanting to do the crazy stuff we do.
---
This big black blob that recently appeared off the San Diego coast looks like the fallout from an oil spill, or an undersea plague coming to haunt humans and probably steal their souls. In reality, it's a massive school of anchovies — harmless enough that people are actually snorkelling through the dark mass of fish.
---
After enjoying a tiny burrito two months ago, tiny hamster just went to a birthday party for his prickly friend tiny porcupine. Like most human birthday parties, the miniature animals were served birthday cakes. It seemed like tiny hamster enjoyed his cake more than tiny porcupine though.
---
Wow. A newly discovered flying bird species had a wingspan that stretched 24 feet long — as big as some aircraft. That's pretty much a flying giant in the sky that's twice as big as anything that can fly today. In fact, the bird, Pelagornis sandersi, is so ginormous that it exceeds our estimates "for the limits of powered flight".
---
United Airlines is working with the Smithsonian on a conservation project that will tag and track the smaller members of the animal kingdom. More specifically, the project will use radio receivers mounted on planes to create a low-altitude network of vanishing species like the monarch butterfly. All while you enjoy your complimentary beverage.
---
Briefly: Imagine your worst nightmare. And then imagine your living room filled with thousands and thousands and thousands of snakes. That's what it's like at the Narcisse Snake Dens in Manitoba, Canada. It's the largest concentration of snakes in the world. It basically looks like an ocean of snakes.
---