Urban Outfitters is a poser. In recent weeks, the claim that the trendy chain sells the most vinyl of any other retailer has been repeated over and over and over again. It is a lie, according to Billboard, because it's actually Amazon that sells the most vinyl.
---
Over the past decade Amazon has developed an incredible infrastructure of warehouses and fulfilment centres dedicated to delivering toilet paper and books within hours. For customers, these spaces are invisible, rarely thought about or even seen. But a new map reveals exactly where they are — and how quickly they're springing up.
---
If you read Gizmodo's regular App Deals post, you'll know that Amazon's Appstore offers a daily paid app for free. The Australian Amazon Appstore itself is a free download for any Android phone or tablet and also runs awesome bundles every month or so. Right now: $165 worth of well-known paid Android games and apps are yours for free, including Swype Keyboard, Riptide GP2 racing, OfficeSuite Professional 7, Autodesk SketchBook Pro and more! Here's what you need to know.
---
Despite having almost a quarter of a billion active users, Amazon is struggling to find a footing for its hardware in peoples' homes. You might have 10 old Amazon boxes lying around — but did any of them contain a Fire phone? A new report from Reuters details how Jeff Bezos plans to change that by doubling down on hardware.
---
Last year, Amazon's Kindle tablets really grew up. They got fantastic and stylish new design, and a software update to back it up. This year, Amazon's trotting out a new 8.9 Kindle Fire HDX with faster guts. You won't find a 7-inch version if that's what you're looking for, but Amazon does have some staggeringly cheap new Kindle Fire HDs to take its place for just $US100 a pop.
---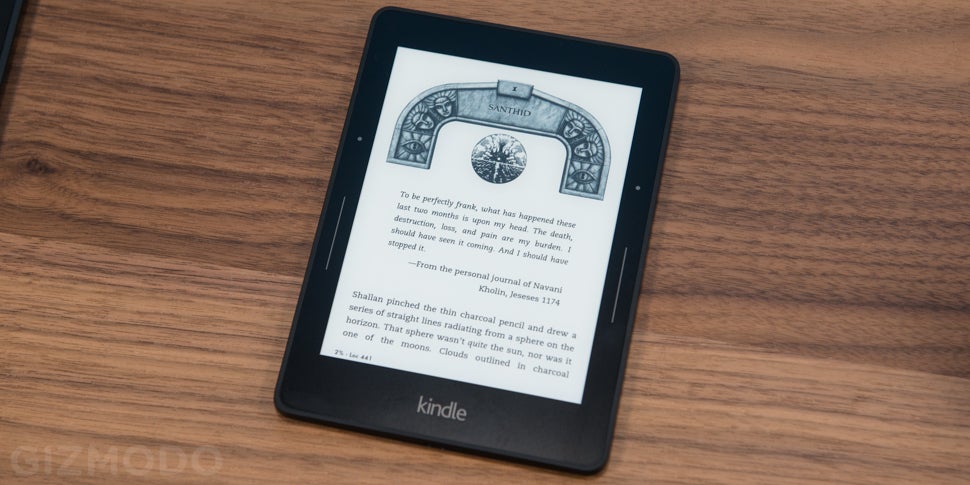 It's been a few years since e-ink Kindles took a big step forward. 2012′s Kindle Paperwhite was the last big splash. But now Amazon's got a new, beautiful, premium e-reader for you to read words off of. This is the Kindle Voyage.
---
Details about two new upcoming Kindle readers have leaked online. A German website first pointed out that information about the next generation of Amazon's ereaders had appeared on the German version of Amazon's website. It's gone now, but not before revealing that there will be two new types: an upgraded "basic" version, and a new high-end product called the Kindle Voyage.
---
Downtown Seattle is being slowly consumed by Amazon-funded infrastructure, thanks to the expansion of its corporate headquarters — glass domes, bike lanes, streetcar improvements. Now the company has figured out an innovative way to heat their new buildings by using the energy generated by their data centres across the street.
---