Now that the children of the '80s are all grown up and have lots of expendable income, companies have realised that nostalgia can be a great marketing tool. That's why so many toys are being resurrected and re-issued, and why Honda is now selling cars using the likes of Skeletor, Jem, and even Stretch Armstrong as its celebrity endorsers.
---
Video: They have been parodied ad nauseam already, but Mattel delivers what is possibly the definitive spoof of Matthew McConaughey's Lincoln ads. Driving a pint-sized Ford F-150 pickup, this kid seems like he's been pitching Power Wheels long before anyone paid him to pitch one. All that's missing is that smooth southern drawl.
---
October 31 has come and gone and it's now time to start thinking about turkey and stuffing and shopping, but not before mentioning this wonderful Halloween prank by Pepsi that had moviegoers seeing more than just their faces reflected in these special haunted bathroom mirrors.
---
Video: This interactive ad is actually two commercials in one. If you let the video roll, you'll end up with your average car commercial. But if you press R in your keyboard while watching it, you'll see a badass action film. Of course, the combination of the two makes it even cooler. Watch the full ad here.
---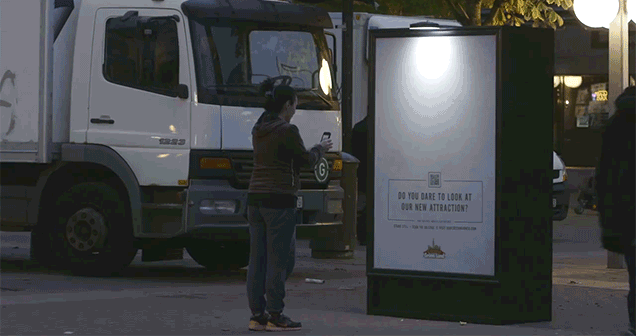 Giant poster ads are bad enough. But they're even worse when they suddenly come to life and attack you. As far as terrifying pranks go, this one is pretty high up there. And it just keeps getting better.
---
New York sometimes feels like an archipelago of multiple cities — cities, which, unless you have a damn good reason like work or your friend's band, you rarely visit. So for its latest ad campaign, NYC isn't going after out-of-staters. It's going after the lazy locals who never visit any neighborhoods but their own.
---
IKEA, in general, is a frightening place, a bizarre isolated world unto itself filled with sad, desperate people. Sometimes, I feel like I'll never make it out of that maze alive. That's what makes this ad from IKEA Singapore, promoting its late-night shopping hours, one of the best Halloween ads I've ever seen.
---
Video: Here's a clever ad from Philips for their smart Hue light bulbs. It shows how much the living room has changed since the invention of the light bulb: TVs get flattened, furniture evolves, people's clothes follow trends, etc. but the light bulb stays the same. Well, we know that's not exactly true but it's a cute ad nonetheless.
---