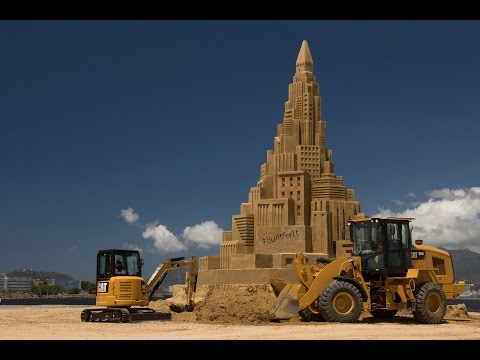 So how do you top a bunch of excavators playing the world's most massive game of Jenga? You put them to use doing what they were designed for: building stuff. Except stuff, in this case, happens to be the world's tallest sand castle towering over 12.5m.
---
Whether or not it's actually the best way to lure audiences away from their mobile devices and back to TV remains to be seen, but what's for certain is that the desperate attempts to win back eyeballs have certainly been entertaining. The Discovery channel had a snake eat a man, but the National Geographic channel went a decidedly less disgusting route with a massive 3.6-tonne Rube Goldberg machine.
---
Honda had us all weepy-eyed with nostalgia during its first run of holiday ads this year that used our favourite '80s toys to lure us into buying a car. The strategy probably didn't convince every child of the '80s to run out and buy a new ride, but that's ok because it means Honda just keeps churning out more of these wonderful commercials.
---
Imagine you're part of a big brand like Target. How do you convince customers you're cool? If you're not waiting around for one of your employees to become a viral teen hearthrob, how about thrusting them into a virtual reality world? In the latest example of VR advertising, Google and Target have teamed up to let shoppers explore a winter wonderland as they stride down the aisles.
---
Now that the children of the '80s are all grown up and have lots of expendable income, companies have realised that nostalgia can be a great marketing tool. That's why so many toys are being resurrected and re-issued, and why Honda is now selling cars using the likes of Skeletor, Jem, and even Stretch Armstrong as its celebrity endorsers.
---
Video: They have been parodied ad nauseam already, but Mattel delivers what is possibly the definitive spoof of Matthew McConaughey's Lincoln ads. Driving a pint-sized Ford F-150 pickup, this kid seems like he's been pitching Power Wheels long before anyone paid him to pitch one. All that's missing is that smooth southern drawl.
---
October 31 has come and gone and it's now time to start thinking about turkey and stuffing and shopping, but not before mentioning this wonderful Halloween prank by Pepsi that had moviegoers seeing more than just their faces reflected in these special haunted bathroom mirrors.
---
Video: This interactive ad is actually two commercials in one. If you let the video roll, you'll end up with your average car commercial. But if you press R in your keyboard while watching it, you'll see a badass action film. Of course, the combination of the two makes it even cooler. Watch the full ad here.
---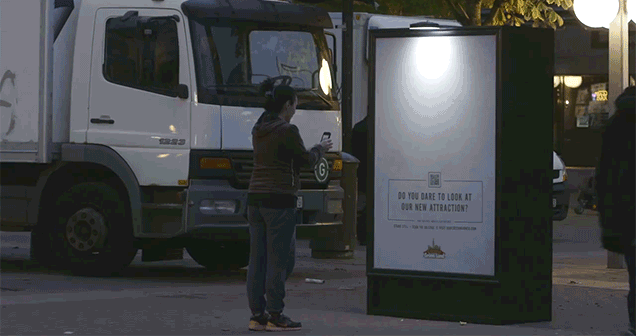 Giant poster ads are bad enough. But they're even worse when they suddenly come to life and attack you. As far as terrifying pranks go, this one is pretty high up there. And it just keeps getting better.
---