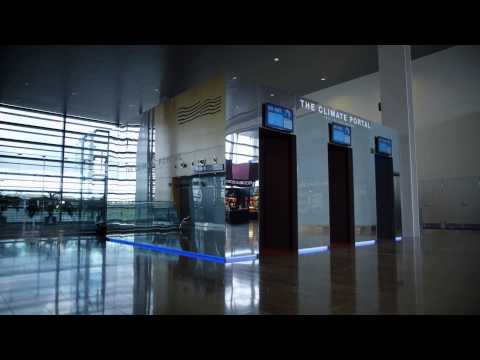 If you're headed off on vacation, you're probably flying somewhere warm. If it's business travel, you might not be so lucky. So the Arland airport in Stockholm, Sweden, has installed three climate-controlled rooms that let travellers experience the weather of the city they're heading to.
---
There isn't a child out there who likes being slathered in sunscreen before a day at the beach, but it's the easiest way to ensure they don't end up with a terrible sunburn. And to help make that a little easier for them to understand, this pair of dolls also gets a sunburn if not properly protected.
---
Not every artistic creation is an instant masterpiece, that's why there are Moleskine sketchbooks. But where perfection really counts is with tattoos, so a magazine dedicated to the craft created a sketchbook made of artificial skin that lets amateur tattoo artists hone their skills. It's like an unholy grimoire for artists.
---
Shazam is expanding to the visual world. Now you can use your phone's camera to scan the Shazam logo on printed media. Shazam will then load up some other "content." Who asked for this?
---
Websites are already able to serve up ads customised for whoever happens to be viewing a page. Now an ad agency in Russia is taking that idea one step further with an outdoor billboard that's able to automatically hide when it spots the police coming.
---
Companies love to put Albert Einstein in their ads. We've seen Einstein peddle Nikon cameras, Apple computers, and even Mentos. But Einstein never approved for his image to be used in any product endorsements while he was alive. In fact, he called these deals the "corruption of our time".
---