Loading page
Video: The Fifth Element is one of those movies you can't help but watch all the way through whenever it's on TV. There are just too many wonderful moments to miss, but clearly Adam Savage's favourite was the reveal of the Zorg ZF-1 blaster. Why else would he spend over 10 years building a replica of his own?
---
Video: After almost 300 episodes and fifteen seasons on Discovery, the Mythbusters have called it quits. To commemorate the end, Thomas Crenshaw put together an amazing supercut that reminds us why the show was awesome.
---
Admit it: you've looked longingly at Captain Kirk's bulky but oddly attractive leather chair and thought "yes, I need that in my life." It's ok. We all have. Even Adam Savage. Especially Adam Savage.
---
When Mythbusters' Adam Savage isn't, uh, busting myths, he spends his time crafting amazing replicas of movie props, among other hobbies. This time around it's the hedge maze from Stanley Kubrick's The Shining, prompted by Savage's disappointment in what should have been the "official" version.
---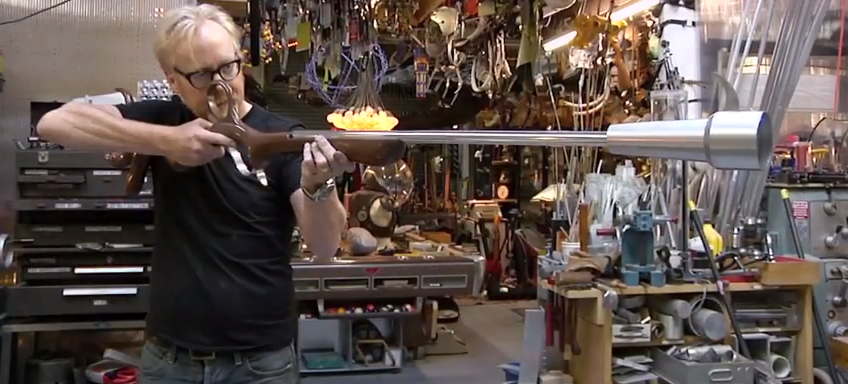 If this hour-long video teaches us anything, it's that Adam Savage could easily be the world's greatest cosplayer if he wanted to be. On a new Tested video as part of "Adam Savage's One Day Builds", the sci-fi obsessed Savage tackles another ambitious project — Barbarella's Space Rifle.
---
Remember Rasputin's mecha-glove from Hellboy? All the delightful details, the knobs, lights, and doodads, were just fantastic. Adam Savage fell in love with it, and he just built a fully functioning replica to show off at Comic-Con, detailing exactly how he built it in a video for Tested.
---
Loading page