Admit it: you've looked longingly at Captain Kirk's bulky but oddly attractive leather chair and thought "yes, I need that in my life." It's ok. We all have. Even Adam Savage. Especially Adam Savage.
---
When Mythbusters' Adam Savage isn't, uh, busting myths, he spends his time crafting amazing replicas of movie props, among other hobbies. This time around it's the hedge maze from Stanley Kubrick's The Shining, prompted by Savage's disappointment in what should have been the "official" version.
---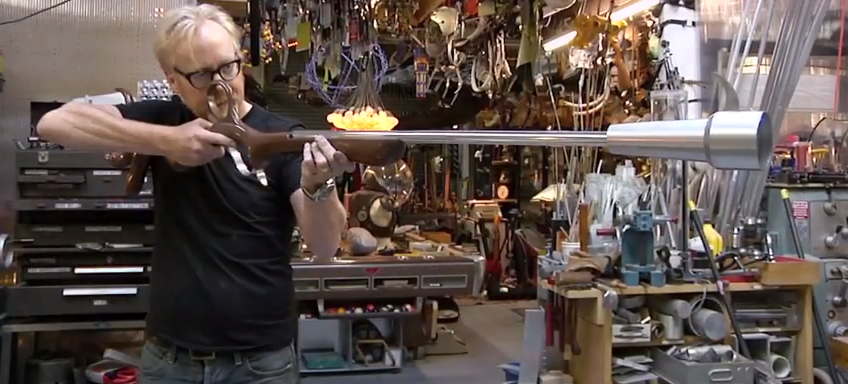 If this hour-long video teaches us anything, it's that Adam Savage could easily be the world's greatest cosplayer if he wanted to be. On a new Tested video as part of "Adam Savage's One Day Builds", the sci-fi obsessed Savage tackles another ambitious project — Barbarella's Space Rifle.
---
Remember Rasputin's mecha-glove from Hellboy? All the delightful details, the knobs, lights, and doodads, were just fantastic. Adam Savage fell in love with it, and he just built a fully functioning replica to show off at Comic-Con, detailing exactly how he built it in a video for Tested.
---
Here's an hour-long super dive into the brains of two supremely interesting maker dudes. We probably shouldn't be surprised that a conversation between MythBusters' Adam Savage and sculptor Tom Sachs goes down wonderful rabbit holes of geekdom rather quickly…
---
You probably know Adam Savage from MythBusters, the popular TV show that tests the validity of various mysteries against the power of science. When he's not mythbusting, Adam is also an industrial designer, artist, educator and all-around Extremely Productive Person. We asked Adam to share how he works, from his favourite productivity playlist to the thing he does better than anyone else. Here's what he said.
---
You may have heard of ArcAttack!, the electronic rock group that makes use of a robotic drummer and Tesla coils to generate music via interpreted MIDI tracks. In this clip, Adam Savage of Mythbusters fame is locked inside a Faraday cage while bolts of electricity from the coils zap harmlessly against it. The band's tune of choice? AC/DC's "Back in Black". I must say, it's quite a sight.
---
Giz friend Adam Savage, in our estimation, can make just about anything. Here he explains the path he took to turn a toy gun into an astoundingly sharp Blade Runner pistol replica.
---