Advancements in pizza science is very serious business. Even the military has been experimenting with strange methods on how to extend the life of the average pizza. Now, science aims to answer a question that's puzzled mankind ever since the dish was created: What cheese is the best?
---
Video: Bárðarbunga is the latest unpronounceable Icelandic volcano to start spewing forth molten lava from the depths of the earth, and thanks to the magic of the internet, you can watch science unfold live online.
---
Over the past week or so, the Bureau of Meteorology has stood accused of fudging its temperature data records to emphasise warming, in a series of articles in The Australian. The accusation hinges on the method that the Bureau uses to remove non-climate-related changes in its weather station data, referred to as "data homogenisation". If true, this would be very serious because these data sets underpin major climate research projects, including deducing how much Australia is warming. But it's not true.
---
For all the super-cool and otherworldly space vehicle and satellite concepts that NASA engineers dream up, only a very small percentage of them ever make it off the drawing board and onto the production line. But the next generation Space Launch System is now part of that select few, having completed NASA's rigorous review process and been found worthy of actual development.
---
Briefly: This looks like some 3D rendering of a fantastic alien matter that can't possibly exist on Earth. But, being the amazing planet we live in, it is actually a real thing: "A bismuth crystal illustrating the many iridescent refraction hues of its oxide surface." We live in a wonderful world, people.
---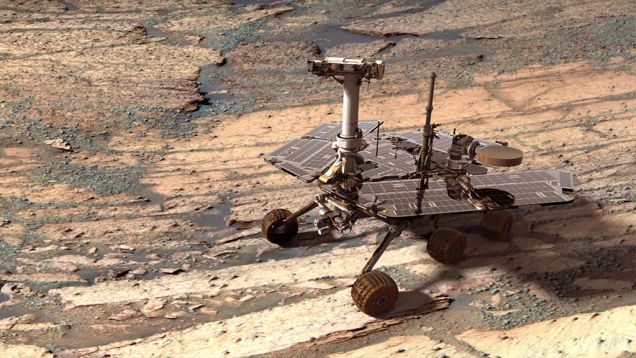 NASA's Opportunity rover is still trundling across the surface of Mars, more than 11 years after its 90-day mission began. But its software is getting bogged down, so NASA's doing a full system backup, memory wipe and reboot. It's just like your routine computer clean-up, just from the next planet over.
---
We all know what havoc plastic wreaks on our environment. When it's not running off into our lakes and choking fish, it's fusing with sand, wood and natural debris and forming permanent litter that will far outlast us. Wouldn't it be great it we could make biodegradable plastic out of agriculture waste? Turns out we can.
---