Ello, that super exclusive, stripped down social network you vaguely remember hearing someone you kinda knew talking about last year is now a super exclusive, stripped down ghost town. So in a desperate plea to re-attract the masses it once swore were coming, Ello has announced that March is officially NSFW month. Because if it's getting down on its knees anyway, it might as well — you know.
---
America's cities haven't devolved into a post-apocalyptic hellscape yet, but they do seem to be teetering on the brink of literal collapse. And no one in Congress seems to care enough to do a damn thing anything about it.
---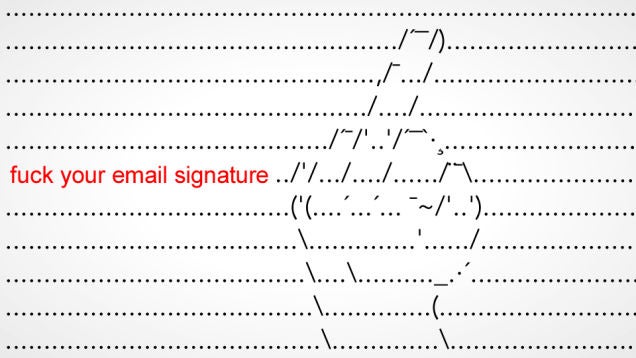 Earlier this month, I asked you guys for the worst email sign-offs you'd ever seen. Well, well, well, did you ever deliver. Many people (understandably, as I am always correct) agreed with me that "Best" is an arrogant and disgusting way to cap off your digital correspondence. But oh, there are plenty of other terrible things you can add.
---
It's a bittersweet day for iiNet. After being announced as the first unmetered partner for Netflix, it has been revealed the ISP has to pay the Australian Competition and Consumer Commission (ACCC) the handsome sum of $204,000 over dodgy Naked Broadband ads.
---
It doesn't matter if the payments are in crumpled, wet $5 notes or casual swipes of a black Amex: New York City makes a boatload of money from fees and fines, and it's looking for new ways to get people to pay up. And that includes cryptocurrency. NYC councilman Mark Levine has proposed a bill allowing Bitcoin as a form of payment for fines and fees, including parking tickets.
---