Owen Good
View Profile
There's never been a better time to try out Windows Server 2012 R2. Not only does it offer loads of benefits, you have the chance to win an Xbox One, thanks to Microsoft Australia and Lifehacker!
---
Yay science! A lot of pre-render in this Need for Speed: Rivals trailer, but it still looks good. And yeah, piss on those cops. These wilful speed competitions only become dangerous when The Man tries to shut them down.
---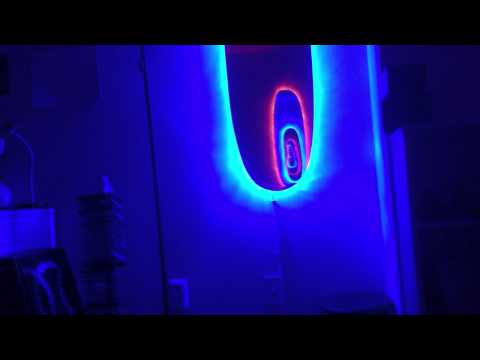 Mirrors lined with blue and red LEDs have long been a staple of Portal-themed decoration. Taking it to the next level, however, is jamin101wolf. He bought the Portal gun prop available through ThinkGeek and Amazon, then plugged the two mirrors into remote-control power boxes. With this he pulls off the effect of firing a red and blue portal (which are located on opposite walls, creating the requisite hall-of-mirrors effect.)
---
A patent application published today resurrects the rumour that Sony's next gaming console will suppress the playing of used games and outlines how such a scheme would be accomplished without the use of an always-on internet connection for verification. In short, an RFID ID stamped onto the new discs would track their usage history and restrict them to one console.
---
FutureMark, the folks behind the 3DMark performance benchmark, will have a new gaming benchmark for PCs out later this year and that trailer above is its tech demo. As you can see, the future of video game graphics would seem to depend on lots of swirling fire embers.
---
The gang at XDA-Developers are hard at work on a full port of Counter-Strike to Android devices, but they've already released two playable versions Android owners can run right now.
---
Sure, Nerf Lancers have been done before, but that doesn't mean they can't be done better. This one, from reader Nick G, is also for sale on eBay.
---
Regarding life in space, everyone has three questions: How do you poop, has anyone screwed, and can you play video games up there. Alright, maybe the first two are more commonly asked, but we have an answer to the third question now.
---
I love the weekends before E3. I've worked four. You get everything in the tips jar—yesterday we got one that said Half-Life 2: Episode 3 would be a Wii 2 launch title. It was too earnest to be a troll.
---
Guns. Swords. Balls. The video games of E3 2011 will have all these and much more when the industry's annual conclave kicks off this week in Los Angeles.… [Kotaku]
---