Harry Sawyers
View Profile
There hasn't been a properly new Mac Pro for a very long time. The original Mac OS X workstation for creative professionals — video editors, commercial photographers, 3D animators — was released in 2006, and the giant cheese grater suffered a ploddingly slow upgrade cycle that meant that plenty of its former fanboys jumped ship to iMacs, MacBooks Pro or Windows boxes. But the Mac Pro is back, it's better, and now there's actually no reason not to buy one.
---
Windows 8.1′s recent update was a subtle but effective boost. Windows Phone's 8.1 power up follows the same cues. It's not mind-blowing, it's not world-changing, it's nothing to jump around and scream about, but it turns Windows Phone into something it's never quite been before: an OS that's totally good enough.
---
---
---
Once upon a time, standing around and waiting involved exactly that: Standing around, waiting, and not doing much else. Today, any free moment is spent facedown in a phone. Stop reading this on your own phone. Right now. Look around. At this moment, you should be the only person, anywhere in sight, not looking at a phone.
---
No kitchen drawer should go without a little power screwdriver. But even tiny drills can be overkill for around-the-house tasks such as tightening a loose cabinet pull. And so here comes the Gyro, a new compact screwdriver with an attractive balance of weight, size, strength and usability, thanks to a new gyroscopic sensor. It could be what your kitchen drawer has been looking for all along.
---
Unlike most coffee drinkers, I can tolerate some pretty mediocre brews. I grew up drinking bad filtered coffee, so I'm the farthest thing from a coffee snob. But I do have taste buds, and I do enjoy something more than a tepid vehicle for caffeine delivery. The YouBrew is an award-winning coffee maker by Breville — but could an Australian company produce great filtered coffee?
---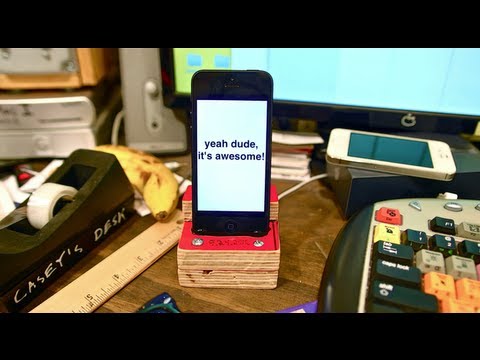 Since the iPhone 5 Lightning adaptor has a chip that prevents you from using third-party cables, you can forget about using an inexpensive off-brand dock. That setup didn't suit Casey Neistat, a filmmaker who prefers to keep a (now obsolete) dock firmly bolted to his desk.
---