Casey Chan
View Profile
No matter what you do, you can't keep this honey badger locked up. It's a master jail breaker. Lock the gate? It will find out how to slide it open. Put it in a deep pit with high walls, it will build a rock ramp. Take away the rocks? It will use mud or trees to climb out. What a fascinatingly clever little badger. I hope he never stops coming up with crazy plans to free himself.
---
If you want to feel like you're on the USS Enterprise, watch this simulation of a fly through of our universe. It comes from the Galaxy and Mass Assembly catalogue and shows the positions of galaxies as they would look as you zipped by (they're bigger for visual purposes). It kind of looks like snow flakes, dirty rain, bird poop and insects hitting your car windshield.
---
Briefly: If you reverse the process in one of those enlightening How It's Made videos you get a fantastically funny How It's Unmade parody series. This particular comedic episode shows how a delicious Oreo is extracted to provide half the United States with flour and harvested for cocaine, gunpowder, cocoa and sugar by wizards. It's hilarious how much is hidden inside those cookies!
---
Video: A fire in Valparaíso, Chile has destroyed more than 2500 homes, left 11,000 people homeless and killed at least 15 people. It's an unfathomable tragedy that has destroyed an entire community. This drone footage from Skyfilms attempts to show the extent of the damage caused by the fire's wrath. It looks like a set of an apocalyptic movie, only it's real people and real lives on the ground.
---
Perhaps this should be the punishment of all selfie takers. Or at least all selfie takers who put themselves in potentially dangerous situations just to take a damn picture of their mug blocking everything behind it. Jared Michael, the foolish guy in the video, paid the price. He tried to take a selfie in front of a passing train but instead got kicked in the head by the train conductor.
---
Video: Funny or Die pokes fun of those who like listening to stories over understanding science in its latest: Creationist Cosmos. It's like the new Neil DeGrasse Tyson Cosmos reboot TV show only made for Creationists. So instead of explanations about the universe, we get very unscientific reasons of why things exist. It's all in silly fun.
---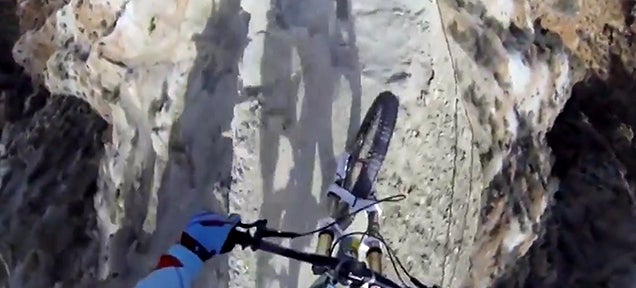 Video: This is just bananas. Coconuts. Hot Dogs. I don't know. Just watch this guy, who I assume is either insane, has the biggest brass ones ever or lost a cruel bet, zoom down the narrowest of a mountain cliff on his mountain bike at super fast speeds. Sometimes, I don't even see any trails or roads when I'm watching the video. Just sharp rocks and places to fall.
---