Andrew Liszewski
View Profile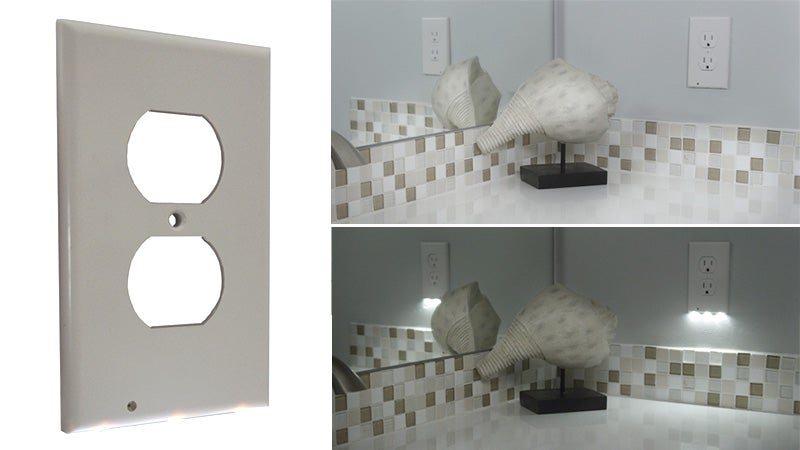 It's OK to sacrifice an outlet to a nightlight in a child's room to scare away monsters, but elsewhere in your home they're far more valuable for other electronics and appliances. And that's exactly why these replacement outlet covers with built-in LED nightlights are so clever — and should eventually be standard in every home.
---
There's no denying that everything looks cooler in slow motion, but birds of prey on the hunt are particularly mesmerising through the lens of a high-speed camera. This Goshawk is being lured into attacking a water balloon baited with a piece of meat, and its mid-air manoeuvres make even our most advanced fighter planes look primitive.
---
Remember the lazy summer days of your youth spent whiling away the hours on your backyard tyre swing? It only stands to reason that your local bird population — who are all clearly unemployed — are looking for a lazy spot to hang out too. So this 5.5-inch ceramic tire swing bird feeder is the perfect way to lure them to your yard.
---
You know that stack of storage boxes buried deep in your closet that you're too lazy to dismantle to find that one item you're looking for? These boxes from King Jim feature a small tag on one side that lets you catalogue photos of their contents, so when it's time to find something you can do all the searching from your iPhone or iPad.
---
As we passed from homeroom to homeroom during our formative educational years, it's understandable that many of us wanted to ensure we left a legacy behind to be remembered by. And that legacy usually came in the form of carving our names and the year into our desks — an act that no longer results in detention if caught, thanks to these adorable wooden desk sticky notes.
---
If you spent any time working as a server in a restaurant or bar, you're probably already a master at carrying trays full of food. The rest of us, however, need all the help we can get. And this clever serving tray from Finell helps eliminate spills using a series of stretchy silicone bands that help to hold everything secure when it's in motion.
---
With 7000 tractor trailers currently in its fleet, it makes sense that Walmart would have a vested interest in designing more efficient delivery vehicles. The company's new ultra-aerodynamic Walmart Advanced Vehicle Experience — or WAVE — concept is lighter and more fuel efficient than other trucks on the market, and can run on almost any fuel short of nuclear power.
---
Because solar panels are designed to accumulate as much light from the sun as possible, they're typically very dark in colour. It makes them more efficient, but also kind of an eyesore, minimising their adoption. So researchers at the University of Michigan have developed what they believe to be the world's first semi-transparent, coloured solar panels.
---