Andrew Liszewski
View Profile
It wouldn't be surprising if Apple made as much money selling replacement charging cables as it did phones and tablets. Those white Lightning cables are easier to lose than socks on laundry day, but now there's an alternative that will actually remind you to pack yours up when you've unplugged your phone.
---
If there's one downside to a summer spent relaxing at garden parties and backyard barbecues, it's having to dine with disposable plastic cutlery. It's flimsy and it's awkward — and thanks to designer Wei Young, you'd be far better off just bringing this reusable set that folds away so it can hang off a carabiner.
---
At one time, the military actually tried to develop inflatable planes that were strong enough to fly but easy to transport. Those never materialised, but the technology involved — a drop-stitch fabric that can be inflated to very high pressures — has enabled Volvo to create an inflatable child car seat that's just as safe as everything already on the market.
---
Unless being late to a dinner date is a felony, Nooka's new line of DC Comics-themed watches won't give you any crime-fighting powers. What they will give you is the ability to show off your allegiance to one of five different DC universe characters including Superman, The Flash, Batman, The Green Lantern, and Wonder Woman.
---
If you've reconciled your childhood frustrations and animosities towards the Rubik's Cube, you might be happy to hear there's now yet another way to make the iconic puzzle a part of a room's decor. Believe it or not this Rubik's Cube LED lamp is actually solvable, although you probably won't want someone to ever mess it up in the first place.
---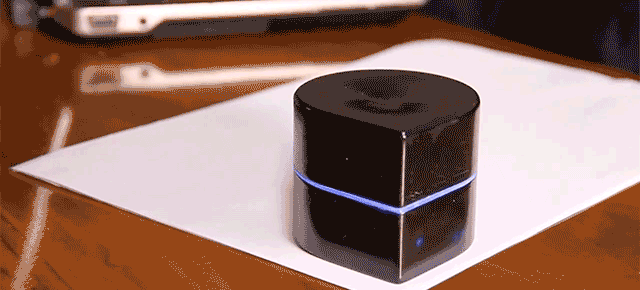 With what has to be one of the most ambitious Kickstarter projects to come along in a while, the folks behind this Mini Mobile Robotic Printer want to revolutionise the mobile office. Because of instead of carrying a page-wide device that has to pull paper through it, this little marvel will instead print directly on a piece of paper while it rolls around on top of it.
---
Not keen on the idea of creating a nail hole in your drywall just so you can hang a wall clock? Designer Jamie Wolfund's found a better way — kind of — as long as you don't mind repainting when it's time to take it down. Instead of nails or screws, the Sticker Clock uses two nine-inch pieces of adhesive vinyl tape to hold the clock hardware to the wall.
---
Installing a set of solar panels on the roof of your home can lead to significant savings when your monthly power bill arrives. But how do you know how well they're performing in between without watching the meter like a hawk? With this innocuous looking piece of art that doubles as a home energy monitor.
---